Graduate School Honors Outstanding Faculty
If you ask Hood College Graduate students what their favorite thing is about Hood, many speak of their professors. Faculty who understand both the academic background and practical application of their content area form the backbone of the college. Each year the Graduate School asks students for nominations of outstanding professors. This year's recipient of the Teaching Excellence Award is Dr. Ann Boyd while Dr. Laura Jones was honored with the Adjunct Teaching Excellence Award.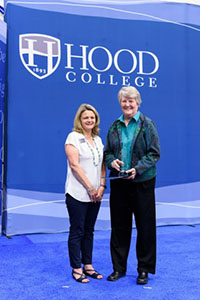 Dr. Ann Boyd is a professor of Biology, who came to Hood in 1982. She was the Program Director for Biomedical Science from 1982-1993 and was the Dean of the Graduate School from 1993-2002. Prior to Hood, she was a research scientist for the National Cancer Institute and has worked as a consultant for Glaxo, BioFisher, and SAIC. She is on the ethics review boards for several organizations and serves as a grant reviewer for others.
Student nominations said that Dr. Boyd "creates meetings to solve educational issues. She gives advice to me like my closest relative and gives me more ways to improve my weaknesses. She found a place to do my internship to improve my skills." She also "keeps the class entertaining, yet very informative. She gives one on one help during office hours, is always available for questions, and teaches life lessons in addition to teaching to course."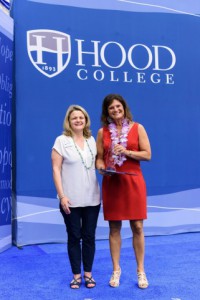 Dr. Laura Jones is no stranger to awards. In 2016 she was invited to a celebration at the White House after being named the Maryland School Counselor Association's "Counselor of the Year" and was recognized as their 2018 Counselor Educator of the Year for her work with Hood students. Dr. Jones just completed her 23rd year as an Elementary School Counselor, and with a doctoral dissertation on the psychological benefits of laughter, she works to incorporate joy in the lives of both her elementary and graduate students.
When nominating Dr. Jones, students said that she is a "role model for us in the counseling programs." One student said that "after an extremely disheartening and challenging semester, Dr. Jones has re-instilled my conviction to keep moving forward to reach the goal of clinical mental health counselor. She taps into her student's strengths and encourages them despite their feelings of trepidation."  Others said that "Dr. Jones mentors us by showing examples of how she handles difficult situations," and that "Hood is so lucky to have Dr. Jones on staff. She is a terrific mentor to her students."
Media Contact
Graduate School
Faculty
Awards
Biomedical & Environmental Graduate Programs
Counseling, Care & Interdisciplinary Studies in Human Behavior Graduate Programs