Hodson Trust Grant $3.5 Million to Hood College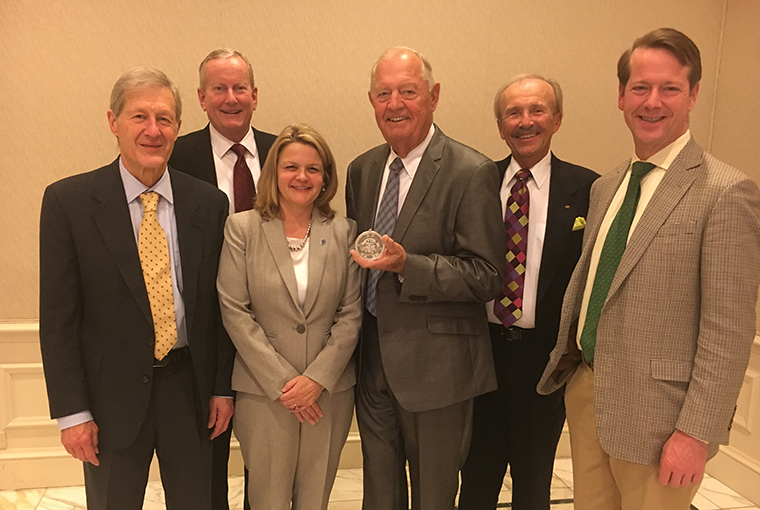 FREDERICK, Maryland—Hood College has received $3.5 million from its largest benefactor, the Hodson Trust, to support student scholarships, including a portion designated to support four-year scholarships for high-achieving students. This gift matches last year's gift from the Trust, which had been the largest received since 2007.
President Andrea E. Chapdelaine, Ph.D., received the gift from the Hodson Board of Trustees during a ceremonial presentation in Baltimore last week, which also included a presentation from Chapdelaine to the Trust of the President's Medal for Opportunity.
"The Hodson Trust has been our biggest scholarship donor for decades, and it is therefore most fitting to award them with this medal," said Chapdelaine. "Through their generosity, we have been able to provide access to a Hood education to underserved students, therefore exemplifying the core Hood value of Opportunity."
Chapdelaine established the President's Medal this year as part of the College's 125th anniversary. The medals are presented to individuals or organizations who exemplify one of Hood's core values of Hope, Opportunity, Obligation and Democracy. These values have been a part of the Hood community for nearly 100 years. In September 1918, the Classes of 1915, 1916, 1917 and 1918 dedicated the four pillars of Alumnae Hall to represent each core value.
"The Class of 1918 defined opportunity as fully using one's talents and skills to realize one's own professional and personal achievement and to help create and realize opportunities for others," said Chapdelaine. "The leaders of the Hodson Trust have realized such achievement, and through the Trust, have in turn created such opportunity for others."
The Trust was settled in 1920 by the family of Col. Clarence Hodson, who grew up in Maryland. He believed that credit should be available to the average American, a revolutionary idea in 1914 when he founded the Beneficial Loan Society. Beneficial became one of the nation's most successful corporations.
Each year, the Hodson grant is distributed among four Maryland institutions: Hood, Washington and St. John's colleges and The Johns Hopkins University. The Hodson name is prevalent throughout Hood in scholarships for students, fellowships for faculty, and named buildings.
Media Contact