Hood College Announces New President's Medal
First Honoree will be Capitol Police Officer Crystal Griner '06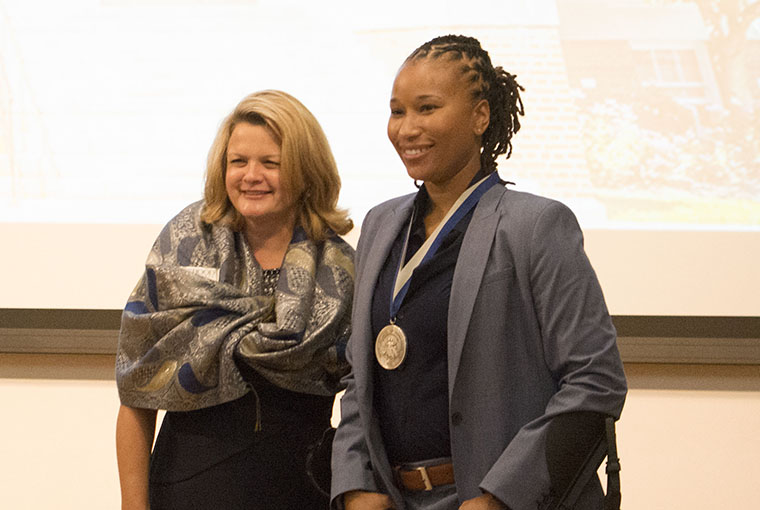 FREDERICK, Maryland—Hood College President Andrea E. Chapdelaine, Ph.D., has established the President's Medal, a prestigious honor awarded to an individual or organization who exemplifies one of Hood's core values of Hope, Opportunity, Obligation and Democracy.
These values have been a part of the Hood community for nearly 100 years. In September 1918, the Classes of 1915, 1916, 1917 and 1918 dedicated the four pillars of Alumnae Hall to represent each core value.
Crystal Griner '06 will receive the first President's Medal for Obligation on Sept. 23 at 11 a.m., as part of Homecoming Weekend. Griner, a Capitol Police Officer, was one of three officers on scene when a gunman opened fire on Republican lawmakers on a baseball field in Alexandria in mid-June. Griner and her fellow officers are credited for their swift action in preventing a larger tragedy. She was honored with the Medal of Valor by President Trump on July 27.
"I am honored to award Crystal Griner with the President's Medal for Obligation for her heroic action in June and the role she plays each day in her profession," said President Chapdelaine. "She personifies the Hood value of Obligation, which is to fulfill personal and professional responsibilities with integrity and to be a responsible steward and servant to the betterment of others and this world. We are excited to honor someone so deserving."
The President's Medals for Hope, Opportunity and Democracy will be awarded during the 2017-18 academic year as part of the College's anniversary celebrations. For more information, contact Laurie Ward at ward@hood.edu or 301-696-3803.
Media Contact