Hood College dedicates gifted portrait of legendary George B. Delaplaine Jr.
Gifts from George B. Delaplaine Jr. fund new school of business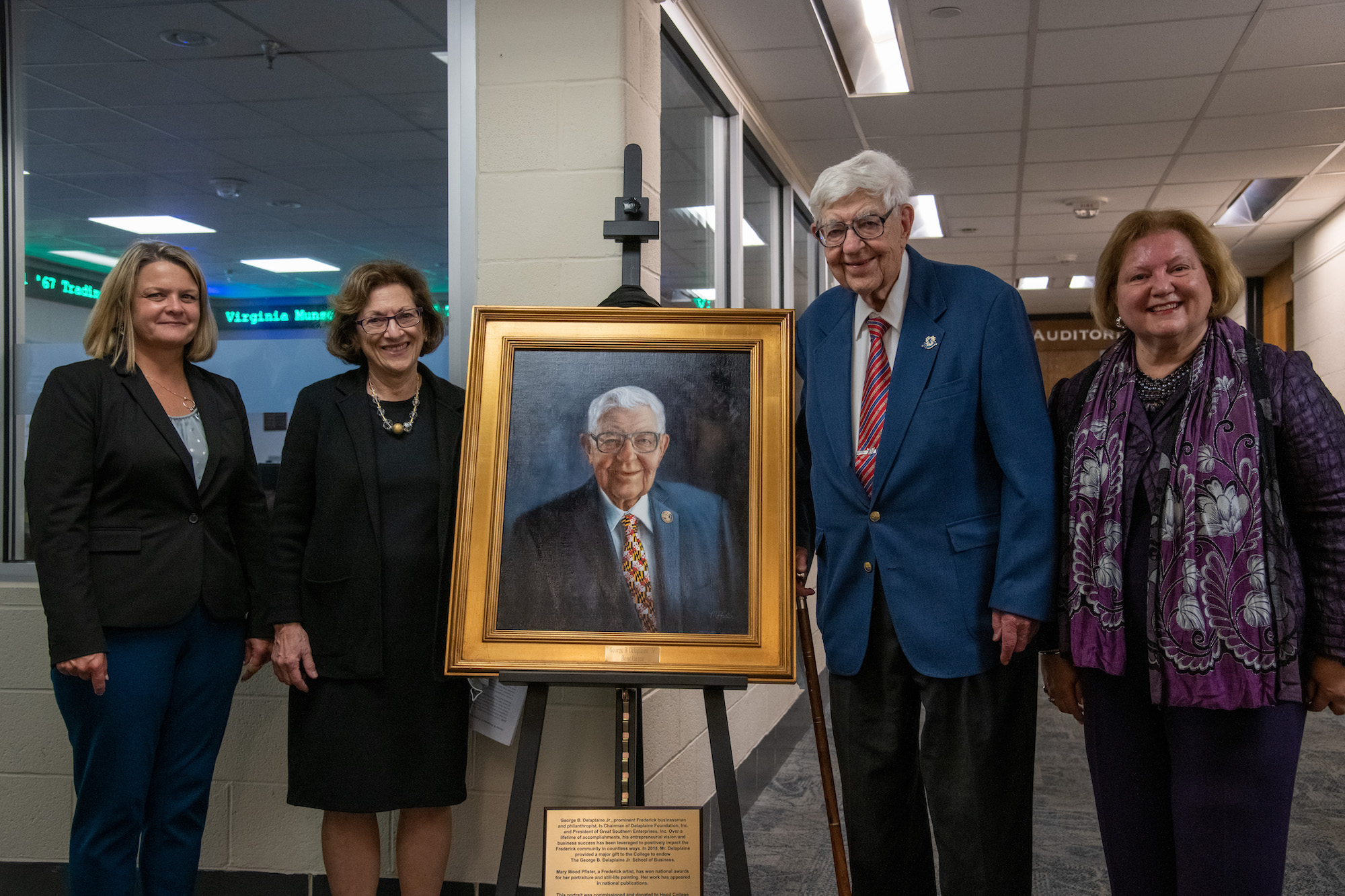 FREDERICK, Maryland — The Hood College Board of Trustees dedicated a portrait of George B. Delaplaine Jr., H'08 last Friday, Oct. 22, honoring his longstanding dedication to the institution. The piece will hang on the first floor of Rosenstock Hall, directly across from the Virginia Munson Hammell '67 Trading Room. The portrait was gifted to Hood College in Delaplaine's honor by Michael S. and Marlene B. Grossnickle Young.
Delaplaine was honored with the President's Medal for Hope after providing a major gift to fund the George B. Delaplaine Jr. School of Business. The school serves as a dedicated space for Hood business students as well as a hub for social entrepreneurship in the community.
"Delaplaine roots run deep on this campus dating back to George's mother Ruth in the class of 1913," said Hood College President Andrea E. Chapdelaine. "George has invested in Hood through the establishment of the School of Business bearing his name, allowed us to develop programs reaching far beyond the gates of Hood College… George, it's good to know you will be watching us and reminding us to live our lives as you live yours. You are our role model."
"My husband Mike and I were pleased to donate the portrait of George Delaplaine as a gift to Hood College and in honor of George and his transformational gift to the College that established the George B. Delaplaine School of Business," said Hood Trustee and Delaplaine Foundation Inc. President Marlene B. Grossnickle Young '76, P'09, H'14. "The school incorporates into its innovative curriculum of business concentrations the guiding principles of social entrepreneurship which George Delaplaine embodies as well as his focus on service to community and civic engagement."
"We wanted there to be a visual presence of the man for whom the School of Business has been named to reflect what his life and career exemplify - that true success is based not only on building financial profitability, but also on building value into the lives of others through community investment and enrichment," Young continued. "We want students to be motivated by his story and to recognize both inside the classroom and through experiential learning opportunities within the business community that business leaders lead by example and the importance of being good civic leaders as well as achieving financial business success."
"I had semi-retired from 30-plus years of commissioned portraiture in order to concentrate more fully on painting portraits of my own family members," said Mary Pfister, the artist behind the portrait. "But I couldn't pass up the opportunity to paint this handsome, distinguished benefactor.  I consider it a tremendous honor and privilege. Working with Marlene on this special project was truly a pleasure."
"George, how grateful we are for you, your loyalty to Hood, your devotion to Frederick and your decades of leading by example," said Judy Messina '66, chair of the Board of Trustees. "May all Hood students learn from you and develop leadership skills for lives of purpose and civic engagement. Thank you, George, for sharing your vision with Hood College."
The Delaplaine family shares close ties with Hood, as George Jr.'s mother, Ruth Carty Delaplaine, graduated from Hood in 1913, and his sister, Frances "Franny" Delaplaine Randall, graduated from Hood in 1945. He and his late wife, Bettie, whom he met while she worked as an assistant in Hood's biology department, both received honorary degrees in 2008. In all, the Delaplaine and Randall families include 12 Hood and Frederick Female Seminary (Hood's precursor) alumni. Additionally, the families have had two members on the Board of Trustees and five members on the Board of Associates.
Media Contact