Hood College Faculty and Staff Receive Hood President's Medal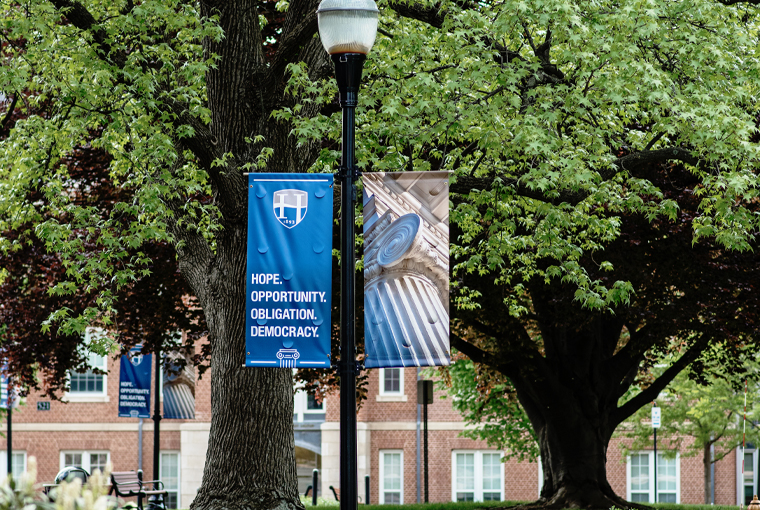 FREDERICK, Maryland—The Hood College faculty and staff have been awarded the Hood College President's Medal for Obligation for their resilience in working through the COVID-19 crisis.
The Hood College President's Medal is a prestigious honor awarded to an individual, group, or organization who exemplifies one of the College's core values. The Class of 1915 defined Obligation as fulfilling personal and professional responsibilities with integrity and being a responsible steward and servant to the betterment of others and this world.
"The abrupt transition to online classes and teleworking, as well as the need to support our students both on campus and remotely placed a heavy burden on the faculty and staff, which they carried with fortitude, commitment and integrity," said Hood President Andrea Chapdelaine. Due to their efforts, our students were able to successfully complete a very difficult semester and we were able to build a robust plan for the fall. I am so proud of their effort and dedication—it is what defines the best of Hood."
Established in 2017 by President Chapdelaine to coincide with the College's 125th anniversary celebrations in 2017-18, the President's Medal features the College's seal on the front and one of the College's ionic pillars from Alumnae Hall on the back. The honored value is engraved atop the pillar, along with the recipient's name. The medal hangs on a ribbon of blue and grey.
Hood College is an independent, liberal arts college, offering more than 25 bachelor's degrees, four pre-professional programs, 19 master's degrees programs, two doctorates and 10 post-baccalaureate certificates. Located in historic Frederick, near Washington, D.C., Baltimore and the I-270 technology corridor, Hood gives students access to countless internships and research opportunities.
Media Contact