Hood College Professor Elected President of Association of Collegiate Marketing Educators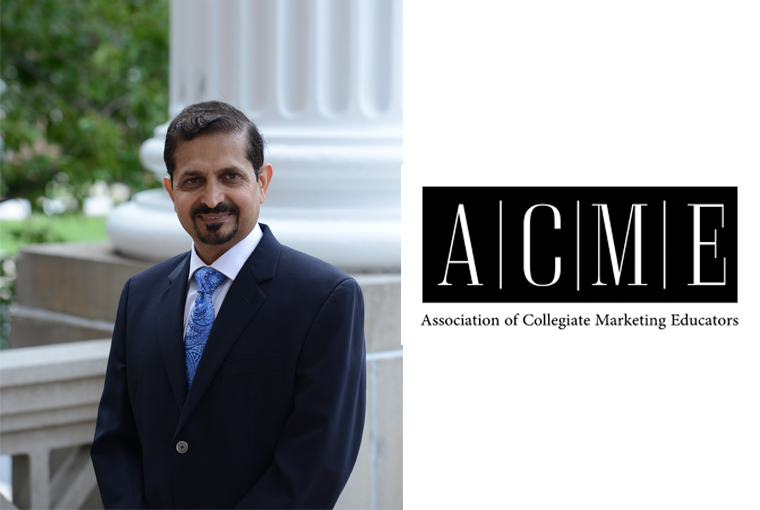 FREDERICK, Maryland—Mel Zuberi, Ph.D., assistant professor of marketing at Hood College, was elected president of the Association of Collegiate Marketing Educators (ACME) at its annual conference in March. With that appointment, he is also a board member of the Federation of Business Disciplines (FBD), the umbrella organization of the ACME.
"These appointments provide me an opportunity to get out the name of the Hood College George B. Delaplaine Jr. School of Business in the world of business and that of academia in particular," said Zuberi.
He teaches social media marketing at Hood and uses his expertise in the field in the classroom to correlate social media campaigns assigned to students with practical applications.
He was program chair for the ACME conference in March and saw registration numbers increase during the week prior to the conference, despite the threat of COVID-19, because he allowed online, asynchronous presentations for members. He will continue to bolster online and social media communications for greater participation at the ACME 2021 annual conference in Galveston, Texas.
The ACME conducts its annual conference during March each year and organizes interactive workshops, panel discussions and teaching innovation competitions. It also conducts the presentation of competitive research papers and posters on timely and relevant topics with an academic, practitioner or pedagogical focus. The ACME strongly encourages the participation of students from the undergraduate, master's, and doctoral levels and supports international participants.
Hood College is an independent, liberal arts college, offering more than 25 bachelor's degrees, four pre-professional programs, 19 master's degrees programs, two doctorates and 10 post-baccalaureate certificates. Located in historic Frederick, near Washington, D.C., Baltimore and the I-270 technology corridor, Hood gives students access to countless internships and research opportunities.
Media Contact