Hood, Frederick Health Partner to Provide Scholarships for Nursing Students
As nursing staffing shortages reach critical level, Frederick Health Hospital to offer aid up to $22,000 per student towards tuition costs, including $5,000 graduation bonus for undergrads in Nursing Program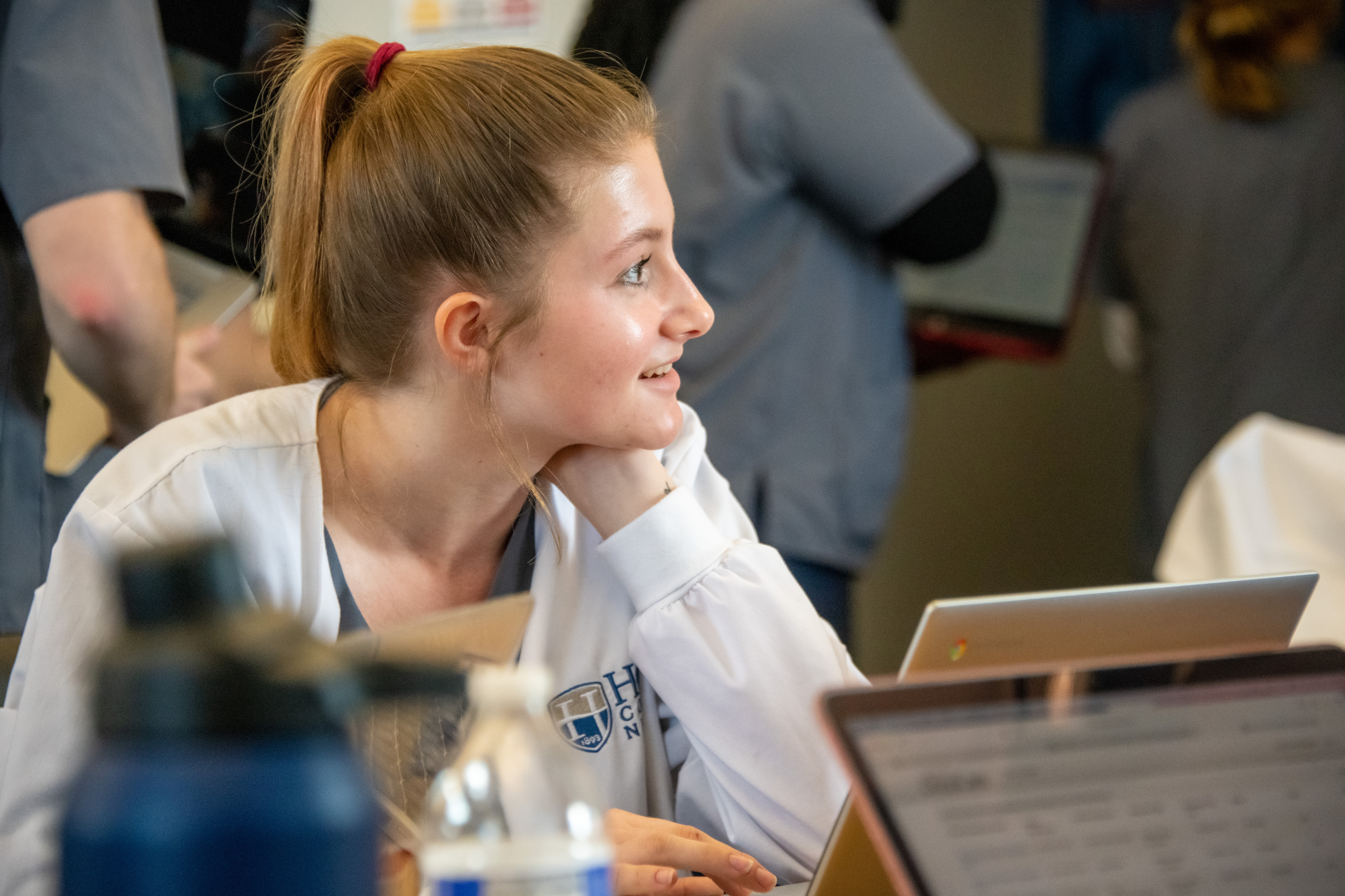 Hood College and Frederick Health are proud to announce a new scholarship program created to address the critical need for registered nurses both in Frederick County and nationwide.
Aid received will be eligible to cover costs of tuition, lab fees, textbooks and required uniforms such as scrubs. Students may receive up to $22,000 over four years, including a $5,000 bonus upon graduation. The scholarship will be offered beginning fall 2023.
Frederick Health will offer a limited number of scholarships per year, as determined by their annual budget. Students will be selected for scholarships following the submission of an application essay and round of interviews held by Frederick Health. Following graduation, scholarship recipients will commit to working for Frederick Health full-time for two years.
Nursing Department Chair Jennifer Cooper, DNP

This new scholarship is yet another opportunity to help fund students' nursing education at Hood and fill nursing positions at Frederick Health Hospital," said Jennifer Cooper, DNP, nursing department chair. "We need more nurses in the workforce, so the scholarship program helps create a pipeline that prepares students and secures graduates to serve the health needs of the Frederick community."
According to a report published earlier this year by the Maryland Hospital Association, Maryland hospitals are facing a critical staffing shortage, citing an insufficient talent pipeline as a key cause. It is estimated that Maryland is currently short 5,000 full-time registered nurses, with hospitals in western Maryland posting vacancy rates between 13 and 17 percent. If steps aren't taken to mitigate the loss of healthcare professionals, Maryland could see these figures double or triple by 2035.
FHH President & CEO Tom Kleinhanzl

"For more than 120 years, our community has continued to thrive due to organizations like Frederick Health and Hood College. I take great pride in how we have continued to find innovative ways to collaborate toward a brighter, healthier future for Frederick County," said Tom Kleinhanzl, president and CEO of Frederick Health and Hood College Board of Trustees member.
"By nurturing and developing this nursing scholarship, we aim to benefit not only ourselves and the nursing students at Hood College, but also our community's overall health. It has been no secret that the global COVID-19 pandemic has been difficult for healthcare workers. By encouraging and supporting the next generation of these healthcare heroes, we are investing in our collective futures."
This scholarship is another step in the partnership between Hood and Frederick Health, which was expanded earlier this year when the College established a new dedicated location for programs within The Ruth Whitaker Holmes School of Behavioral and Health Sciences.
Hood College President Andrea Chapdelaine, Ph.D.

"Our Department of Nursing has built one of the fastest-growing programs on our campus, and Frederick Health's support has been key to that growth," said Hood College President Andrea Chapdelaine, Ph.D.

"We're excited to be able to provide this scholarship for our students, and continue to meet Frederick County and Maryland's urgent need for trained registered nurses."
Media Contact
Health Sciences
Nursing
Community Partnerships