Hood Welcomes Senators Ben Cardin and Chris Van Hollen to STEM Roundtable
Politicians, educators and business leaders discuss building a 21st century workforce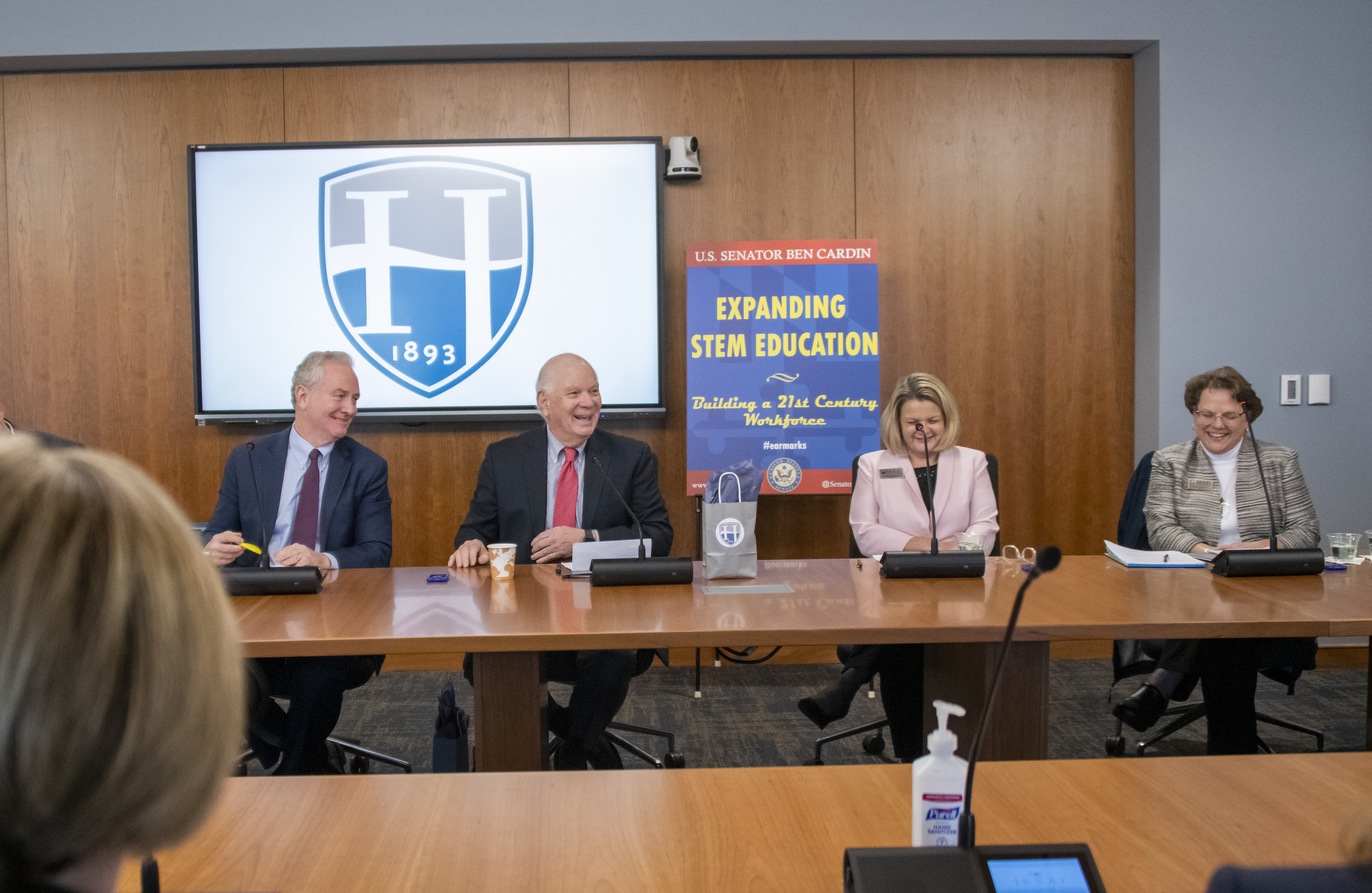 On Jan. 27, Hood College hosted the Expanding STEM Education summit. Senators Ben Cardin and Chris Van Hollen of Maryland were joined by leadership delegations from Hood and Mount St. Mary's University, including Hood President Andrea Chapdelaine, Ph.D., and Provost Debbie Ricker, Ph.D., alongside Mount's Vice President Kraig Sheetz.
Convening at the Beneficial-Hodson Library and Learning Commons, a group of local business leaders, and workforce and economic partners joined the roundtable discussion. Cardin and Van Hollen affirmed their commitment to bolstering resources for higher education to spur innovations in science and technology, while also combating workforce shortages.
Senator Ben Cardin

"When you see major opportunities for economic expansion, our challenge is do we have people trained in those fields in order to be competitive?" remarked Sen. Cardin. "Frederick County is one of the key hubs for technology in the country—but we need to have partners and we need to have the workforce. That's why we're so proud to partner with [Hood and Mount St. Mary's]."
Cardin and Van Hollen were instrumental in securing $1 million in funding for Hood through the 2023 federal omnibus bill. A portion of these funds will contribute to programming for Hood's new Biomedical Research and Training.
The growth of STEM programs at Hood has been in direct response to regional and national industry demands. Both Senators noted that workforce pipeline problems must be addressed for Maryland and the nation to stay globally competitive. With the adequate resources, colleges like Hood can not only offer training for future STEM professionals, but also connect them with the right companies.
Senator Chris Van Hollen

"We want to make sure that students who pursue [STEM] fields have all the tools that they need to succeed," said Sen. Van Hollen. "These investments are part of a larger national strategy to make sure that, as a country, we're prepared to meet the jobs of today and the future."
The Senators stressed that meeting challenges in science and technology must be a collaborative effort. The government, colleges and universities, and businesses all play an equal role in creating a professional development ecosystem that can rapidly adapt and evolve.
President Chapdelaine echoed the importance of close partnerships and highlighted Hood's arrangement with Kite Pharma as an example of a mutually beneficial relationship between educators and industry. Students can gain hands-on experience through internships at Kite, while Kite can utilize labs at Hood for research and recruit new employees.
Hood President Andrea Chapdelaine, Ph.D

"Our partnerships help accelerate that workforce pipeline," said Chapdelaine. "We want to create a place where we can work together to advance knowledge as well as the workforce in this area. The strength of these partnerships has existed since our founding in 1893 and only gets stronger every day."
Attendees from local and regional organizations, such as the Maryland Tech Council, expressed their enthusiasm for maintaining close ties with Hood and other schools. A noteworthy problem has been the export of workers who choose to relocate after graduation. Smaller institutions like Hood tend to produce a talent pool which remains within its community.
Cardin also noted that smaller colleges and universities as well as businesses are often more agile when it comes to meeting unpredictable workforce trends. "We need to tap the creativity of our small, innovative companies—and the same thing is happening on the campuses of smaller colleges and universities."
Business leaders agreed that flexibility is crucial skill that they look for in new hires. Provost Ricker pointed out that Hood's liberal arts curriculum equips students with just that.
Provost Debbie Ricker, Ph.D.

"We know that the problems in science and technology aren't going to be solved just by biologists or just by chemists," said Ricker. "They're going to be solved by working together as a team in an interdisciplinary way."
The meeting concluded with optimism and excitement for what will be made possible through the generosity of federal funding, reflecting confidence in Hood to enact positive change that will impact students and address emerging workforce needs for years to come.
"Looking around this table, this is exactly the kind of collaboration that I think will help us all succeed," said Van Hollen. "There are great opportunities for our state and our country. Our future depends on your good work."
Media Contact
Community Partnerships
Grants and Scholarships