Immunotherapy Expert to Discuss Her Work Developing Treatments for Cancer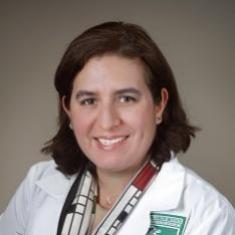 FREDERICK, Maryland—Stephanie L. Goff, a medical doctor at the National Cancer Institute (NCI), will visit Hood College on Oct. 25 to discuss her laboratory's work to develop immunotherapy treatments for advanced cancer. Goff is part of the Center for Cancer's Surgery Branch at the NCI, which is part of the National Institutes of Health (NIH).
She will give her talk, "Advances in Cellular Immunotherapy for Metastatic Cancer," at 7 p.m. in Hodson Auditorium in Rosenstock Hall. Cellular immunotherapy uses the body's own immune system to fight cancer. Metastatic cancer is when cancer spreads to new areas of the body.
Goff and one of her patients were featured in the Discovery Channel docuseries, "First in Human," which followed four patients through different "First in Human" trials—when a new therapy is initially tested in humans—that were conducted in the NIH Clinical Center on the NIH campus in Bethesda, Maryland. The three-part documentary was narrated by actor Jim Parsons.
Goff is a fellow of the American College of Surgeons and an associate research physician and surgical oncologist in the Surgery Branch at NCI. She began her surgical training at St. Vincent's Hospital in Manhattan and used her research years to pursue clinical and basic science training in tumor immunology under Dr. Steven Rosenberg at the NCI.
She completed her surgical training at Columbia University followed by a surgical oncology fellowship at the combined Dana-Farber/Brigham & Women's/Massachusetts General Hospital program. Her research interests include adoptive cell therapy for the treatment of solid tumors—building on the backbone of success in patients with metastatic melanoma to investigate the strategy in patients with metastatic breast cancer.
According to the National Cancer Institute, in 2018, an estimated 1,735,350 new cases of cancer will be diagnosed in the U.S. and 609,640 people will die from the disease. Approximately 38.4 percent of men and women will be diagnosed with cancer at some point during their lifetimes (based on 2013–2015 data).
This event is hosted by the Graduate School and the biomedical science program. Hood's biomedical science program equips students to work at the intersection of science, medicine and society.
The lecture is free and open to the public. A short reception will follow the talk. For more information, contact April Boulton at boulton@hood.edu.
Media Contact
Tommy Riggs
Assistant Director of Marketing and Communications
Events
Speaker
Biomedical & Environmental Graduate Programs
Graduate School
Health Sciences
Research