Junior Mackenzie Clark Honored at Enactus National Event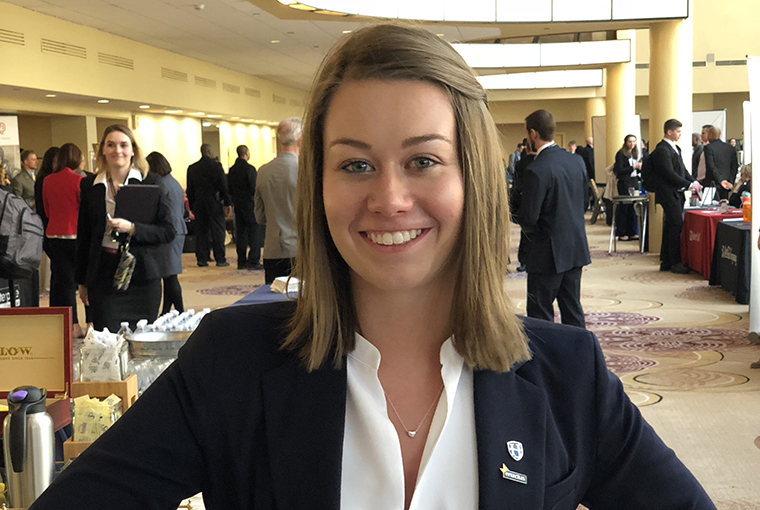 FREDERICK, Maryland—Mackenzie Clark, a junior at Hood College, was honored with the Enactus Emerging Leader Award in Honor of Manly Molpus.
This award recognizes an Enactus student who demonstrates leadership and exhibits the potential to make significant contributions to the Consumer Packaged Goods (CPG) industry. It is the top award an Enactus student can earn, and they only award one each year.
Clark was honored at the National Enactus Expo in early May in front of 5,000 people. As the recipient, she received a $5,000 scholarship for educational purposes, recognition at the annual Grocery Manufacturers Association (GMA) Leadership Forum, a paid summer internship at the GMA headquarters in Washington, D.C., and a $1,000 project grant for Hood's Enactus team.
"Mackenzie has been the spark behind so many of the projects Hood's Enactus team has engaged in within the past year," said David Gurzick, Ph.D., associate professor of management science at Hood and Enactus club adviser. "Her leadership, resourcefulness and creative spirit are a treasure to Hood and our community. Mackenzie embodies the Enactus mantra of enabling progress through entrepreneurial action. This award celebrates her achievements to date and gives our community a rising star to watch over the coming years."
Clark has helped lead several Enactus projects including: CEO of the first entrepreneurship class delivered at Frederick High School as part of the LYNX program; and Astraea, a large mailbox type exchange program, where individuals can donate feminine hygiene products to the box and women can obtain the items whenever they need to, with dignity.
This scholarship honors the service of Manly Molpus, who was a trusted and experienced adviser for the CPG industry. He served as president and CEO of the GMA from 1990 to 2006 and as interim CEO in 2008. Molpus was a long-time advocate of Enactus, and he played a very active role judging competitions and encouraging GMA member companies to recruit potential employees from their ranks.
Media Contact
Tommy Riggs
Assistant Director of Marketing and Communications
Awards
Undergraduate student