Meta Spherical Exhibit by Alex Miller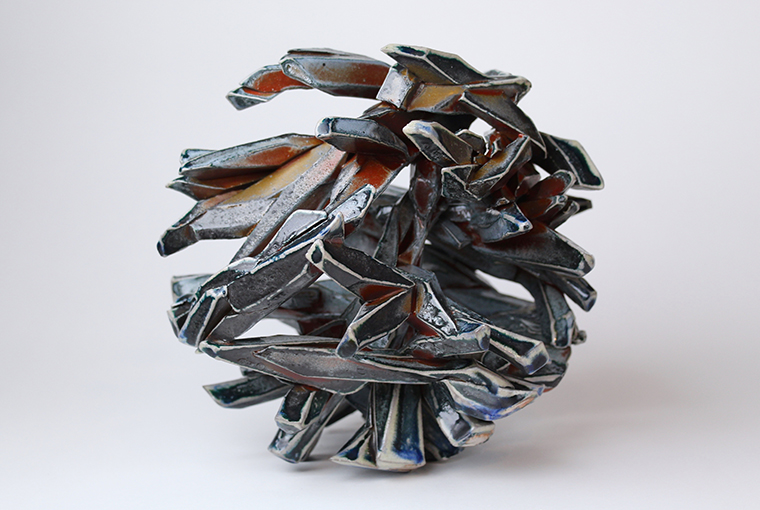 FREDERICK, Maryland—Alex Miller, a Master of Fine Arts candidate at Hood College, will have an exhibit in Hood's Hodson Gallery in the Tatem Arts Center July 27 through Aug. 12.
His "Meta Spherical" show is a sculptural exploration of the search for truth at the intersection of science, faith and human perception. Interconnected matrices of smaller clay components come together to form abstract sculptures referencing the sphere as a metaphor for absolute truth. The depth and texture of the forms are highlighted through eroded slips, stains or underglazes, or through the effects of an atmospheric soda firing. He uses positive and negative space to express themes of the human search for comprehension within a complex universe.
Miller is an artist and teacher based in Greencastle, Pennsylvania. Since earning his bachelor's degree in art education from Shippensburg University, he has been teaching art at the elementary and secondary levels. During his undergraduate studies, he began exploring themes of truth and human perception through oil paintings and ceramic works. Now primarily focused on ceramic sculpture, his work often focuses on the complex interaction between the many small pieces used in construction of sculpture, and the resulting whole form. His affinity for clay was cultivated early by his late grandfather who was a potter and teacher.
The gallery is open from 9 a.m. to 7 p.m. daily. There will be a reception July 27 from 6 to 9 p.m. with an artist lecture at 6:30 p.m. For more information, contact Jenna Gianni at 301-696-3285 or gianni@hood.edu.
Media Contact
Tommy Riggs
Assistant Director of Marketing and Communications