MSL Fall Session on Campus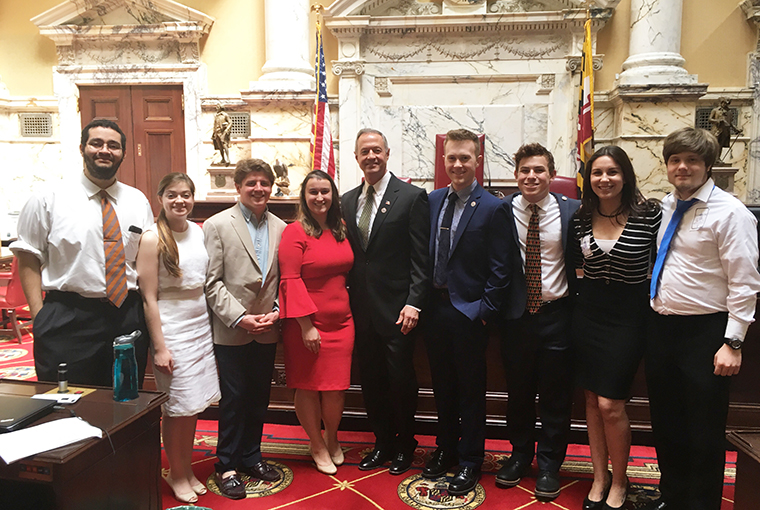 FREDERICK, Maryland—Hood College will host approximately 50 students from seven colleges Nov. 16-18 for the Maryland Student Legislature (MSL) fall session.
The participating schools are Washington College, St. John's College, Frostburg State University, the University of Maryland at College Park, St. Mary's College, Mount St. Mary's University and Hood. Participating from Hood are Brooks Anderson '22, Nick Fisher '19, Shea Jakubowksi '22, Jacob Keith '21, Natalie Kolosieke '21 and Nik Smith '19. Keith is also the MSL attorney general, so he approves bills for the docket.
On Friday, students will meet in committees to markup legislation. They will meet as a general assembly Saturday and Sunday in Hodson Science and Technology Center, Room 131.
Bills on the docket include an act altering the state handling of animal abusers, an act altering the definition of indecent exposure, a change in the Maryland presidential primary system and the adoption of a "Kid Governor" program.
MSL is a nonprofit that allows college and university students opportunities to experience Maryland state government and legislative processes and gather to write and debate public policy. Each year during MSL fall session, members experience the legislative process of the actual house of delegates and senate chambers.
Media Contact
Tommy Riggs
Assistant Director of Marketing and Communications
Events
Law & Political Sciences
Undergraduate student