Opportunity for All to Discover Hood College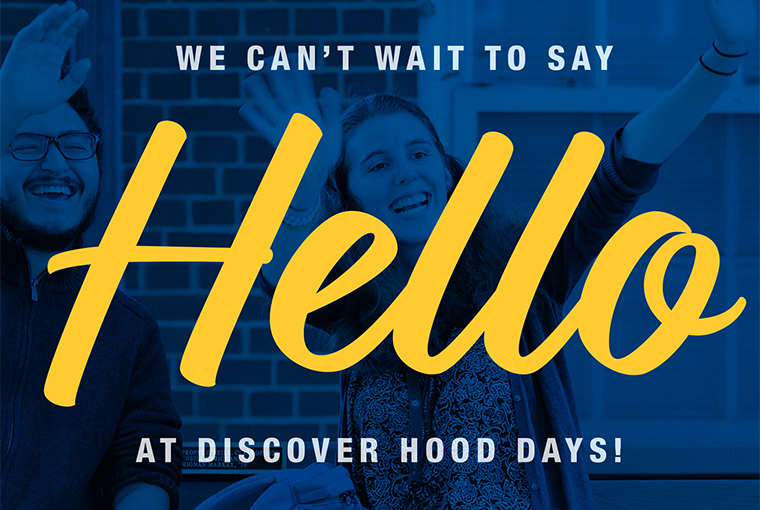 FREDERICK, Maryland—Hood College invites all students and families in any stage of the college search process to Discover Hood on Saturday, Nov. 16 starting at 9 a.m. Discover Hood Day promises to be a fun-filled day for attendees to learn about everything Hood has to offer.
Students and guests will learn helpful tips about applying to college, timelines and information on navigating the financial aid process. Attendees will have the opportunity to chat with professors, staff and current students about possible majors, study abroad, internships and all other aspects of campus life at Hood. Coaches will be available during the day to talk about Hood's intercollegiate athletic programs and the new esports program. The day will end with student-guided campus tours and an optional lunch.
Check in for Discover Hood Day is from 8:45 to 9 a.m. in the Ronald J. Volpe Athletic Center, with programming beginning at 9 a.m. Representatives will be on hand to direct attendees to parking and the check-in table. The schedule for the day will end around 12:30 p.m.
For more information or to register, call 301-696-3400, email admission@hood.edu, or visit hood.edu/dhd.
Hood College is an independent, liberal arts college, offering 28 bachelor's degrees, four pre-professional programs, 19 master's degrees programs, two doctorates and 10 post-baccalaureate certificates. Located in historic Frederick, near Washington, D.C., Baltimore and the I-270 technology corridor, Hood gives students access to countless internships and research opportunities.
Media Contact
Tommy Riggs
Assistant Director of Marketing and Communications