Retired Faculty Establish Inclusion Scholarship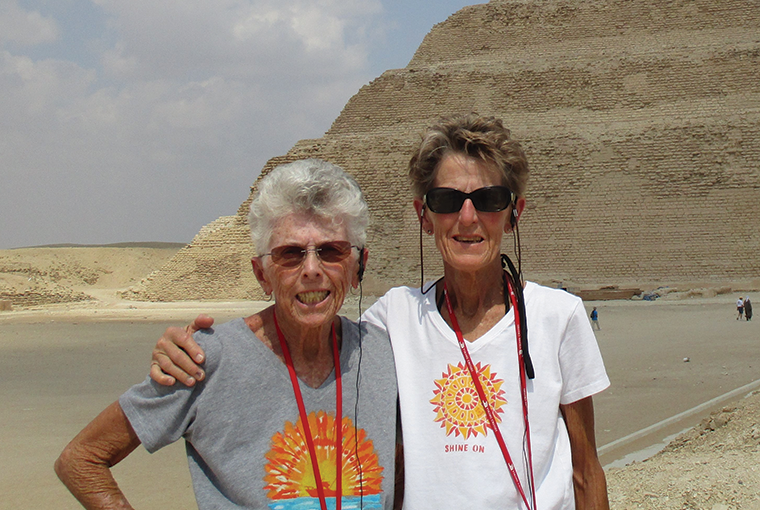 FREDERICK, Maryland—Retired Hood College faculty members Karen Klisch, Ph.D., and Anne Simonsen, Ph.D., have given $100,000 to Hood to establish an endowed LGBTQ+ scholarship.
This gift is the first of its kind to Hood for increased inclusion. This scholarship shall be awarded annually, based upon financial needs, to a student who identifies as a female, first-generation college student and is either a person of color/non-Caucasian or a person with a sexual orientation other than heterosexual.
Klisch taught in Hood's Department of Physical Education for more than 40 years after arriving at the College in the mid-1960s. She retired in 1999 as professor emerita and then moved on to a 20-year career as a professor in the Graduate School of Management and Technology for the University of Maryland University College.
Simonsen taught in the Department of Physical Education and Recreation for eight years at Hood. In 1987, she began a 24-year career at Gallaudet University retiring as a full professor and the Director of the Recreation and Leisure Studies Major.
Klisch and Simonsen are both first-generation college graduates and, during their professional careers, taught many classes where 95 percent of the students were people of color. And, Klisch explained, "Anne and I are married. That has turned some heads along the way and still does. As a female, lesbian, feminist, I am intimately familiar with prejudice, discrimination and oppression. Our time at Hood was very special to both of us, so we decided we could attempt a legacy with this scholarship."
Hood has an active Office of Diversity and Inclusion which builds a supportive community and provides resources for underrepresented students, including the LGBTQ+ community and the Diversity Coalition (Black Student Union, Queer Student Union, Feminist Student Union, and Latinx Student Union). Thirty percent of Hood's undergraduate population is made up of first-generation students; 38 percent of those students identify as non-Caucasian.
"The Queer Student Union is incredibly excited to see Hood College enter into this partnership with Drs. Klisch and Simonsen," said Maria Bernal '20, president of the Queer Student Union. "We are thankful to be able to encourage the support of our membership through this gift, and we know that this will benefit many LGBTQ+ students in the future."
Klisch earned her bachelor's degree from Florida State University and her master's degree and Ph.D. from the University of Maryland. Simonsen earned her bachelor's degree from the University of Iowa; master's degrees from George Washington University; the University of Baltimore and Gallaudet; in addition to a Ph.D. from the University of Maryland.
Hood College is an independent, liberal arts college, offering 28 bachelor's degrees, four pre-professional programs, 19 master's degrees programs, two doctorates and 10 post-baccalaureate certificates. Located in historic Frederick, near Washington, D.C., Baltimore and the I-270 technology corridor, Hood gives students access to countless internships and research opportunities.
Media Contact
Grants and Scholarships
Hood Magazine