Retired Professor Wins Award, Scholarship Established in Her Name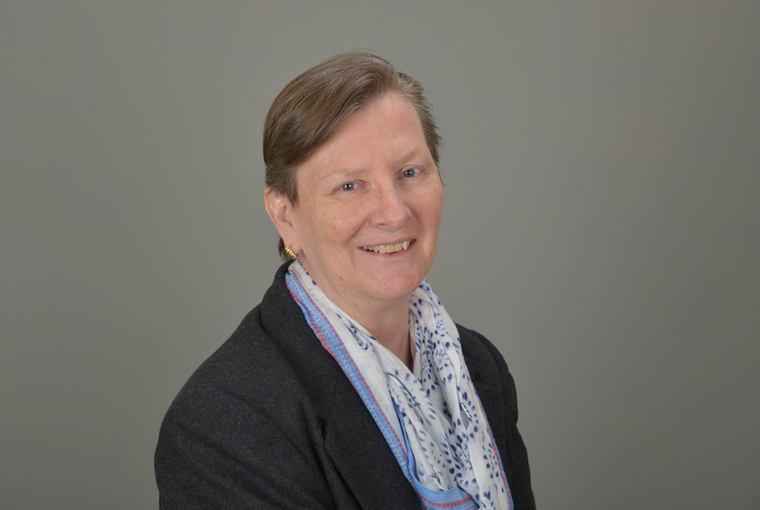 FREDERICK, Maryland—Joyce Michaud, a recently retired professor who founded and directed Hood College's internationally renowned ceramics graduate program, recently received an award for teaching excellence and was honored with the establishment of a scholarship.
Michaud accepted the Excellence in Teaching Award from the National Council on Education for Ceramic Arts (NCECA), whose mission is creation, teaching and learning through clay in the contemporary world. NCECA's Excellence in Teaching Award is bestowed upon recipients who are at or near the end of a career dedicated to the practice of teaching; have demonstrated excellence in their own creative work; have had previous recognition for and a history of awards in teaching; and have highly visible former students in the field.
She was nominated for this award by her student, Roberta Couver, and her nomination was immediately and unanimously approved by NCECA. Couver nominated her because "her unique approach to throwing pieces on the potter's wheel is based on hard science, particularly physics; as a STEM student, this approach helped me understand the nuances of wheel-thrown pottery. The program itself includes intensive courses that allow folks like me, who are employed full-time, to pursue advanced studies in ceramic arts. I also have a warm, personal regard for her as a teacher and as a person."
Corey Shultz, studio arts studio manager at Hood, discussed Michaud's career and her impact on the ceramic arts field. "Joyce Michaud is simply a force in the field of ceramics. Her 40-plus-year career in clay, nearly 25 of which spent at Hood College, has been the driving force for thousands of students. To sum up her career would be an impossible task. Joyce is simply a living treasure who has left a legacy behind. Having her receive such a prestigious award, from such a prestigious organization in NCECA, is absolutely expected. If I have met anyone in my career to deserve this honor, it is Joyce."
An endowed ceramics scholarship has also been established at Hood College in honor of Michaud, whose career at Hood spanned from 1994 to 2019. Established by her family, this scholarship is for a graduate student in the ceramics program, or an undergraduate student enrolled in ceramics or studio art coursework.
"When my mother, Joyce Michaud, made the decision to pursue her MFA in ceramics, she could not have done so without the emotional and financial support of others," said Eryk Nice. "She went on to make a name for herself and her work, and a durable piece of her legacy is the ceramics program she built at Hood College. I'm excited to support the establishment of the scholarship to help others benefit from the incredible MFA program she has built at Hood, and ultimately perhaps follow in her footsteps and leave their own mark on the ceramics world."
Donations to this scholarship can be made through the Office of Institutional Advancement. Contact Emily VanderWoude, director of leadership giving, at 301-696-3708 or vanderwoude@hood.edu for more information.
Hood College is an independent, liberal arts college, offering more than 25 bachelor's degrees, four pre-professional programs, 19 master's degrees programs, two doctorates and 10 post-baccalaureate certificates. Located in historic Frederick, near Washington, D.C., Baltimore and the I-270 technology corridor, Hood gives students access to countless internships and research opportunities.
Media Contact
Awards
Grants and Scholarships
Art & Archaeology
Faculty