Senior Maisha Khan Named Top Honors Student in Maryland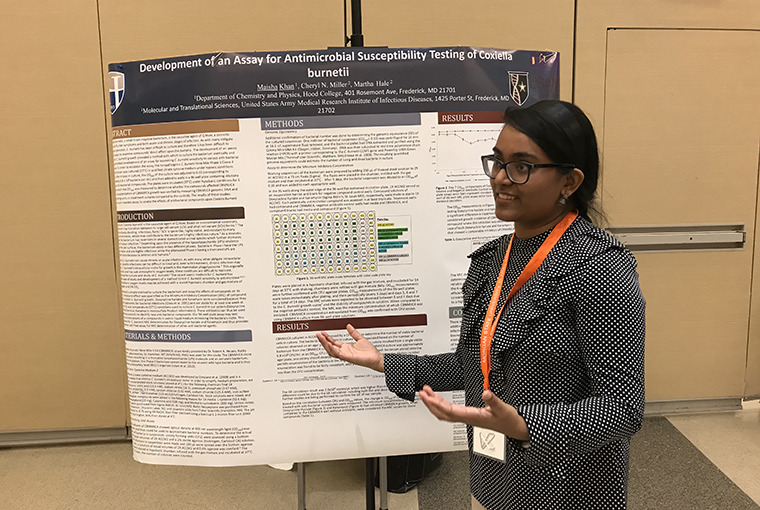 FREDERICK, Maryland—For the second year in a row, a Hood College senior has won the Maryland Portz Award, given to the top honors student at a four-year college.
Maisha Khan's presentation "Development of an Assay for Antimicrobial Susceptibility Testing of Coxiella burnetii" earned the award at the Maryland Collegiate Honors Council Conference at Morgan State University March 1-2. Hood students Anastazia Jablunovsky '19, Gina Sterling '20 and Eliza Funk '20 also presented at the conference; Jablunovsky won an award for Best Poster, titled "Engineering Melting Temperatures of Carbohydrate Binding Modules Through Site-Directed Mutagenesis."
Khan said she was surprised and honored to receive the Portz Award, given the qualifications of the other nominees.
"I pursue academics and extracurriculars because I love learning," she said. "Yet none of this would have been possible without the support and enthusiasm of people like my mentor Dr. Martha Hale at USAMRIID, and teachers and advisers at Hood including Dr. Dana Lawrence, Dr. Craig Laufer and Dr. Karen Hoffman."
Khan also presented her work at the 2018 American Chemical Society meeting and is already co-author of two scientific publications. She will present a year-long Departmental Honors project at Hood in April. After graduating in May with a bachelor's degree in biochemistry, she plans to attend medical school.
"Maisha is the strongest biochemistry major in the current class of graduates, as well as the strongest we have had for many years," wrote Dana Lawrence, Khan's adviser, in her letter of recommendation for the Portz Award. "She is one of the most well-rounded science majors I have ever known."
Khan is in the Honors Program and has been on the Dean's List and received Convocation Honors each semester at Hood. She is a member of the honor societies Gamma Sigma Epsilon, Phi Kappa Phi, Mortarboard, Ionic Society and Alpha Lambda Delta. She is also active in the community, having completed 800 volunteer hours at Frederick Memorial Hospital since 2014. She also volunteers at STEM events at local elementary and secondary schools with the Free Radicals Chemistry Club.
"Her abilities are so well developed and her accomplishments are so many that it is hard to believe that she is only at the beginning of what will be her life's work," wrote Karen Hoffman and Craig Laufer, co-directors of the Hood College Honors Program, in their letter of recommendation. "She is among the most accomplished, dedicated and hard-working students we have encountered in our seven years directing the Honors Program."
Media Contact
Tommy Riggs
Assistant Director of Marketing and Communications
Awards
Natural Sciences
Research
Undergraduate student