Senior Makhalia Aiken Wins Hood College's Third Consecutive Portz Award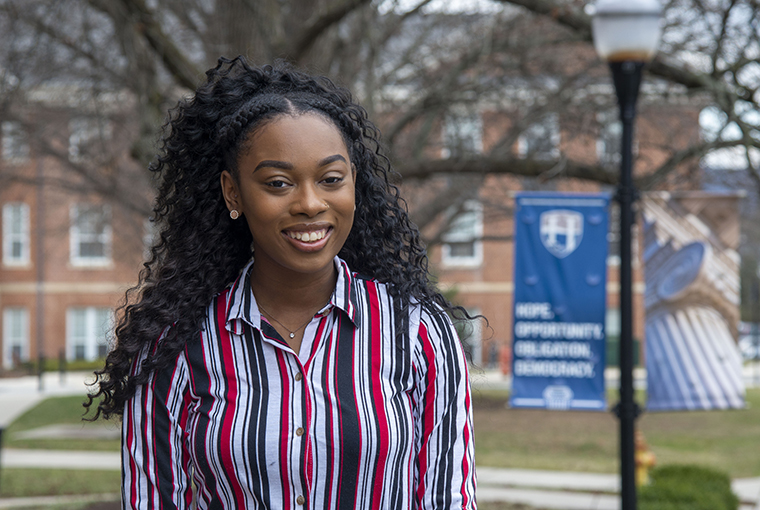 FREDERICK, Maryland—Hood College senior Makhalia Aiken won the Portz Award for best honors student in Maryland at the recent Maryland Collegiate Honors Conference (MCHC), which marks the third year in a row that a Hood student has won the Portz Award. In addition to Aiken, Hood students Amber Meyers, Haley Shuman and Katie Valla also presented at the conference.
At the MCHC, honors students from around the state present their research to students and faculty from four-year and two-year schools in Maryland. Aiken's paper, "Engineering of Melting Temperatures of Carbohydrate Binding Domains," described the research she has been pursuing since summer 2019 on the genetic engineering of enzymes used in biofuels production to modify them so they are readily recovered for multiple uses. She also presented this research in the fall at the 2019 UMBC undergraduate research symposium where she won the award for best poster presentation.
"I think if our research is successful and applicable in the real world, it could be significant in helping combat the climate crisis," she said. "For me, the thought that the research I'm doing can be helpful in some way, even if it's not on a global scale, is a huge motivating factor to keep working and learning.
"The MCHC conference was a really good experience. I enjoyed hearing presentations from students at other schools in Maryland and being able to exchange ideas about the topics we are all passionate about. I was shocked when I actually won this award because there are so many really talented, passionate and brilliant honors students in Maryland. It was definitely tough competition."
Aiken, a biology major and member of the Honors Program, has also been a leader on campus, serving as vice president of the Student Government Association; president of the Ionic Society (the campus honor's fraternity); and vice president of the Academic Affairs Committee of the Black Student Union, helping to organize the annual Liberation of the Mind conference and the Diversity Coalition Cookout. After graduating, she plans to work in a research lab and eventually attend graduate school or a Ph.D. program.
"We are so proud of Makhalia. She represents Hood and the Honors Program so well," said Craig Laufer, Ph.D., and Karen Hoffman, Ph.D., co-directors of Hood's Honors Program. "The award criteria include the student's academic achievements, their service to the community and the quality of the research paper they submit. Makhalia hit it out of the park in all three areas. She has taken a rigorous curriculum in the sciences as well as excelling in her honors courses. She is one of our 'go-to' people for honors student panels and other events and has been actively involved in the program throughout her time at Hood."
Hood College is an independent, liberal arts college, offering more than 25 bachelor's degrees, four pre-professional programs, 19 master's degrees programs, two doctorates and 10 post-baccalaureate certificates. Located in historic Frederick, near Washington, D.C., Baltimore and the I-270 technology corridor, Hood gives students access to countless internships and research opportunities.
Media Contact
Awards
Undergraduate student
Natural Sciences