Students Win Awards at Model United Nations Summit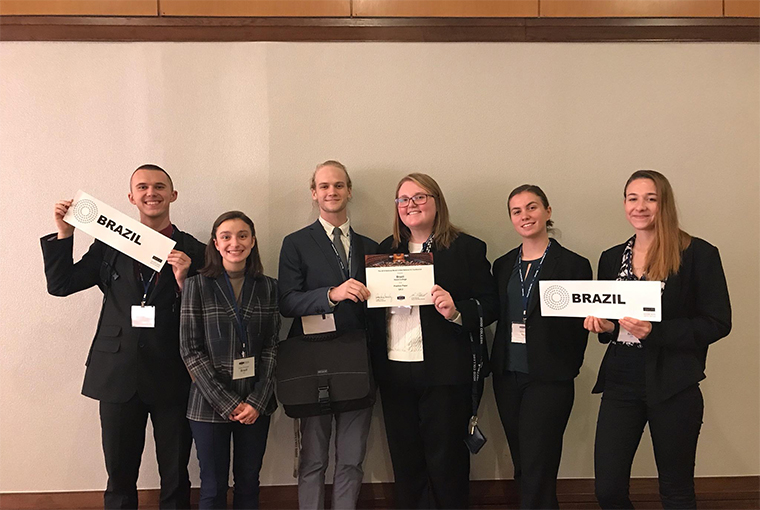 FREDERICK, Maryland—Hood College students Kara Poole and Simon Williams won awards at the Model United Nations summit, which took place Nov. 9-11 in Washington, D.C.
Poole, a senior, and Williams, a sophomore, were among the seven Hood students representing Brazil. They won outstanding position paper for the General Assembly, Second Committee for their two-part position paper about the "Development Cooperation with Middle-Income Countries and Ensuring Access to Affordable, Sustainable, and Reliable Energy for All."
Poole discussed the programs Brazil has implemented to ensure everyone has access to clean energy, and Williams focused on ways Brazil has worked toward global, economic and social development and the programs the country has put in place to support other middle-income countries.
The other five students in Hood's delegation included sophomores Reka Baan, Colton Barkefelt, Ashly Sargent, Caylee Winpigler and Selma Zuljevic.
Paige Eager, Ph.D., professor of political science and director of the global studies program at Hood, advises the Model UN Club and describes it as a "simulation experiment."
"Students assume the role as ambassadors from a particular country we are assigned to represent," she said. "They have to research topics that are given out ahead of time, write papers that give different perspectives about their country, and this is all before we get to the conference."
This was the first event of its kind that Poole and Williams had attended, and they were impressed by the dedication.
"We didn't expect the amount of people who were there or how seriously everyone took it," said Poole. "Everyone was really trying their hardest to write working papers that would address and fix these issues on a global scale. It was really cool to be a part of."
Media Contact
Tommy Riggs
Assistant Director of Marketing and Communications
Awards
Research
Undergraduate student