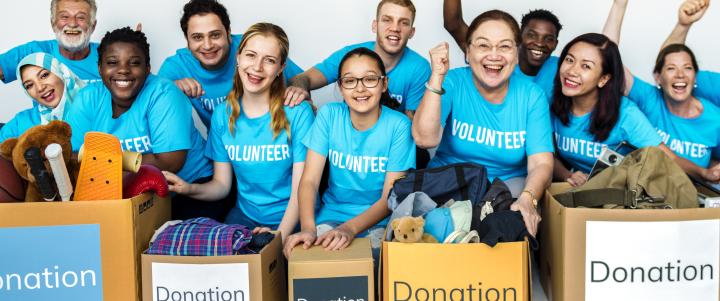 Print@Hood has a long history of working with the nonprofit sector. In fact, Hood College is itself a nonprofit institution. We know firsthand that every nonprofit must rely on marketing to raise funds, recruit volunteers and spread the word about their cause. Your messaging should educate, engage and motivate audiences.
Fortunately, your organization doesn't need to do all the hard work. Let Print@Hood create effective and budget-conscious flyers, postcards, banners or t-shirts that stand out and make a statement.
Whether you need help with a one-time campaign or are looking for ongoing services, our print marketing support will help you save time and money while promoting your mission.
Contact Print@Hood today to get started!
 
Compact, efficient and easy to distribute, brochures are perfect vessels for packing a lot of information into a small package. With numerous brochure options, we can find the best fit for your unique content.
One of the most versatile pieces of direct mail, postcards can promote events, educate audiences and send gratitude to supporters. Utilize our targeted mailing lists to get the biggest impact on your next campaign.
Give clients something to remember with a professional business card. We have a variety of stocks to choose from and can help match the right look for your message.
A well-made poster can transform a space and command attention. We produce high-quality, full-color posters that are the perfect accompaniment for any event. We can create a range of different sizes based to fit your needs.
Our variable tickets are great for galas, raffles and more. Donors appreciate having something tangible and personalized for charity events and fundraisers. Give them a ticket that reflects your brand.
Contact Print@Hood at 301-696-3119 or print@hood.edu
Are you ready to say Hello?
Choose a Pathway
Information will vary based on program level. Select a path to find the information you're looking for!