Research & Special Programs
How will you spend your summer? Are you interested in doing something besides hanging out with your friends? Get a jump on your future by researching the causes of cancer. Or investigating the suitability of sea anemones as indicators of coral reef health. How about studying about the ecology of chestnut trees? These are just some of the research projects students have participated in during Hood's Summer Research Institute (SRI). 
The SRI allows students to work one-on-one with a faculty adviser in a research project. Students engage in research in the laboratory or in the field for eight weeks during the summer (from about mid-June until mid-Aug.). We encourage collaboration and communication between research groups through informal discussions of current research projects, the history of science and the role of women in science. 
Students and faculty also get together for fun! In previous years, we have had picnics, field trips to the National Aquarium in Baltimore, a float trip on Antietam Creek, an outing to see the Frederick Keys play baseball and a science fiction film series.
In addition to learning how to do the research, students learn about data analysis and presentation when they present their research at a poster session at the end of SRI. The poster session also enables the entire campus community to learn about the research being done by Hood faculty and students. 
Applying to the Summer Science Institute
The SRI provides students with a $2,500 stipend and free housing. Any Hood undergraduate is eligible to apply. Admission is competitive; we receive about twice as many applications as there are spaces in the program. Applications for Summer Research Institute are due each year in March.
One of the on-going, on-campus projects related to biofuels production is a collaboration between Hood College faculty and students and a local company, Atlantic Biomass Conversions, Inc. This USDA-funded research is working toward sustainable and economic production of biofuels from agricultural wastes such as sugarbeet pulp. These renewable sources of biomass can be used to produce carbon-neutral, liquid transportation fuels; a substitute for petroleum-based, non-renewable, carbon dioxide-generating fuels such as diesel and gasoline. However, in order to be viable, these alternative fuels must be cost-competitive.
Specifically, Hood students are genetically engineering the carbohydrate binding modules of cellulases to facilitate their reuse. This is important as the expense of the enzymes used to convert the complex biomass to simple sugars constitutes a substantial fraction of the overall cost of producing second generation biofuels. Successful recovery and reuse of the enzymes for multiple batches of biomass will be a big step toward making these fuels a marketplace reality.
The students pictured below (and many more) worked together on this project. We are hoping to add your face to the picture for future semesters!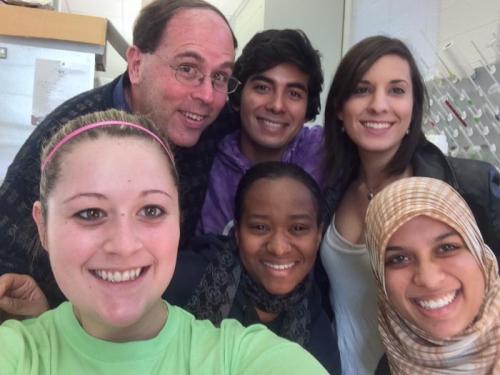 The Monocacy Basin Stream Monitoring Project (MBSMP) is a water quality monitoring and watershed education program that emphasizes the study of the Monocacy watershed. The project provides public outreach opportunities that teach science and problem-solving skills, increase awareness of environmental problems and encourage communication among students and other citizens who live in different locations within the watershed.
The MBSMP works with teachers to incorporate water quality monitoring as part of their environmental curriculum, using the concepts of aquatic science while relying on skills in mathematics and computer science. This interdisciplinary approach provides practical integration of classroom subjects that often motivate students to solve real-world problems. Project participants also include adult volunteer monitors who collect crucial stream health data and work within their respective watersheds to protect stream habitat and health. The data is regularly updated on the official MBSMP Web site and shared with groups throughout the watershed.
Educational objectives of the MBSMP
Learn the field and laboratory skills needed to measure physical and chemical attributes of water quality.
Use macroinvertebrates as bio-indicators of water quality.
Analyze collected data and formulate possible explanations for specific results.
Examine ecological and social factors that influence water quality.
Develop skills in group problem solving and action taking.
Utilize the appropriate technology to affect change.
Provide local, state and federal water quality groups with monitoring data and collaborate to protect and improve water quality.
Participant Activities
Stream survey: participants identify the characteristics of the river at each testing site such as depth, width, plant life, slope and condition of the stream bank, composition of the streambed and possible pollution sources (areas of runoff, pipes, etc.).
Chemical sampling: participants measure and report such parameters as pH, nitrates and total suspended solids.
Aquatic macroinvertebrate sampling: participants identify and study the characteristics of aquatic macroinvertebrates (insects, snails, clams and worms) living in the watershed and learn about the physical forces that influence them. Hands-on opportunities exist to collect organisms and calculate the relationship between the composition of the aquatic community and water quality by using indicator organisms and diversity indexes.
Computer Networking: students compile their data on a single World Wide Web page and communicate with each other on issues of water quality, pollution solutions, stewardship and social action.
Contact Information
Katie Heilman
Email: heilman@hood.edu
Phone: 301-696-3655
The Department of Biology at Hood College offers a unique opportunity to study tropical marine ecosystems first hand.
If you have ever marveled over the myriad organisms found in coral reefs, sea grass beds, mangrove swamps and rocky intertidal and sandy beaches, and are curious to learn more about them, Hood's Tropical Marine Ecology course is for you!
This 3-credit course is open to both undergraduate and graduate students. It begins on Hood's campus with a week of introductory lectures and readings, followed by travel to the Bahamian Field Station on San Salvador Island for an intensive 10-day field experience.
Students integrate previous lecture material with personal, on-site observations to gain a better understanding of the complex interactions in marine ecoystsems. In addition, students take part in a collaborative research project that is carried out in the field. 
Imagine white sand, turquoise water, a tropical climate and incredible sights to see around every corner, not your ordinary classroom setting, but all part of this extraordinary course, Tropical Marine Ecology.
Amphibian Ecology is a field-based course designed to introduce students to the ecology, evolution, behavior and conservation of amphibians. We focus on amphibians in Maryland and nearby states (West Virginia, Virginia, North Carolina and Pennsylvania).  
Finding hellbenders in the rivers of North Carolina 
Scrambling up a mountainside to find slimy salamanders 
Listening to green tree frogs while knee-deep in muck 
Canoeing through a cypress swamp, looking for carpenter frogs ... check it out!
Hood College has a strong commitment to the Frederick community. Testament to that commitment is our faculty's involvement in local organizations. The biology department has developed a number of local collaborations that provide our faculty and students with unique opportunities for research and internships.
Betsy Estilow is a member of the board of directors for the National Museum of Civil War Medicine, located in Downtown Frederick, and has been involved with the museum since 1994. It might seem odd that a biologist is interested in Civil War history, but not if you know Ms. Estilow — one of her specialties is the history of medicine. 
Catoctin Mountain Park is located just north of Frederick on Route 15. Numerous faculty are collaborating with park personnel on research and educational projects, including Professor Eric Kindahl who also conducted a salamander monitoring project there.
The Frederick Cancer Research and Development Center of the National Cancer Institute, the U.S. Department of Agriculture Agricultural Research Service and the U.S. Army Medical Research Institute of Infectious Diseases are all located within Fort Detrick, just 10 minutes from campus.
These state-of-the-art facilities provide our faculty and students with unsurpassed opportunities for research. Hood faculty and graduate students have collaborated with scientists from Fort Detrick on a number of projects, including investigations of plant pathogens, population genetics of large cats and other important studies of agricultural issues, human health and conservation biology.
Undergraduates also participate in research at Fort Detrick, through internships and jointly sponsored research experience. In addition to cutting-edge laboratory facilities and scientific expertise, Fort Detrick has a comprehensive library that is available for public use.
Are you ready to say Hello?
Choose a Pathway
Information will vary based on program level. Select a path to find the information you're looking for!