2022 Commencement Speaker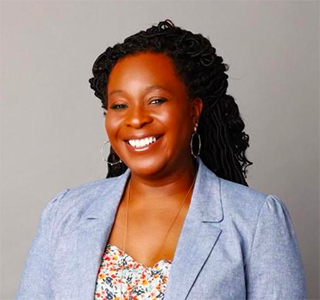 Aba Blankson '99
Chief Marketing and Communications Officer
NAACP
In her role at the NAACP, Blankson oversees and develops communication strategies, campaigns and partner collaborations to elevate the NAACP brand's products and services. 
Prior to joining the NAACP, Blankson served as marketing and communications lead at the Common Application, where she spearheaded the development of strategic marketing and public engagement plans to advance the association's brand identity as a thought-leader in higher education. Previously, Blankson served as a communications and outreach officer with the U.S. Department of State.
Blankson grew up in Baltimore and holds a bachelor's degree in mathematics from Hood College, a master's in computer science from Towson University, and an MBA from the Cornell University SC Johnson College of Business.  
Peggy currently serves as the executive director of the Canterbury Counseling Center in Greenville, South Carolina. She was part of the first class of women to attend General Theological Seminary in New York City and to be ordained by the episcopal church. The majority of her career has been spent in chaplaincy, first at Vassar College and later in long-term care in Connecticut, Ohio and South Carolina. She has been a loyal supporter of Hood and received the Distinguished Alumnae Award in 2015. 
Dean of Students and Vice President for Student Affairs (retired), Hood College
Dean White retired at the end of  2020, more than 28 years at Hood College and more than 40 years in higher education.
She joined Hood in July 1992 and has been the vice president for student life and dean of students since 1994. In that time, she has created a student-centric environment that promotes academic achievement and a successful college experience. Under her leadership, she is responsible for departments that serve students' everyday lives, including residence life, student engagement, commuter life, judicial affairs, health and wellness, orientation, diversity and inclusion, campus safety and spiritual life.
White is an active member of the Frederick community and currently serves as vice chair of the Board of Directors at the Weinberg Center for the Arts. She is a Paul Harris Fellow and active member of the Rotary Club of Carroll Creek, for which she has held multiple leadership roles, including former president; she is a graduate of Leadership Frederick County (2010-11); and former board member of the Heartly House, Advocates for Homeless Families, and UNESCO.
She is a charter member, executive board member and immediate past president of Frederick County Alumnae Chapter (FCAC), Delta Sigma Theta Sorority, Inc. (2012-2016); she was recognized by FCAC as Delta of the Year (2012 and 2016) and Delta Dear of the Year (2018-2019); selected as a National Leadership Academy Delta Fellow (2018-2019), she also serves as a member of the national Strategic Partnership Task Force, chairing the Charitable Partners subcommittee, and is the primary advisor to Kappa Psi Chapter at Frostburg State University. She is an active member and co-director of Vacation Bible School at Beltway Church of Christ in Camp Springs, Maryland.
In 2014, White co-chaired the Hood College Planning Committee for Realizing the Dream, a year-long series commemorating the 50th anniversary of the Civil Rights Act and featuring guest lectures, performances, documentaries, the historic Sept. 26, 2014 March on Frederick, and a conference on contemporary Civil Rights issues. The March on Frederick attracted national civil rights activist Julian Bond, numerous state and local officials and nearly 1,200 marchers and participants over the three-day weekend celebration. White was recognized as 2014 Citizen of the Year by Omega Psi Phi Fraternity, Alpha Lambda Lambda Chapter.
White also had a leadership role in bringing to Frederick a four-day international conference that commemorated the 50th anniversary of Brown v. Board of Education in March 2004. She encouraged representation from many national, state and Frederick County agencies and organizations to develop and implement this momentous celebration, which was hosted at Hood College.
In 2017, she was honored with the George B. Delaplaine Distinguished Citizen Award in recognition of the positive and lasting impact she has made in the community. She was the first female to be selected for this award in Frederick County, a unanimous choice by a community involving scouting leaders in Frederick County and the Delaplaine Center.
Ethan Dmitrovsky, M.D., director of the Frederick National Laboratory for Cancer Research and president of Leidos Biomedical Research, Inc., leads a team of 2,200 scientists, health professionals and supporting staff in the fight against cancer, AIDS and emerging infectious diseases.
He graduated from Harvard University and Cornell University Medical College and was an internal medicine resident at New York Hospital-Memorial Sloan-Kettering Cancer Center, and an oncology fellow at the National Cancer Institute.
Dmitrovsky, an American Cancer Society professor, is former provost and executive vice president of the University of Texas MD Anderson Cancer Center, home to undergraduate and graduate programs and more than 4,000 clinical trials. He also served as principal investigator of the Cancer Center Core Grant—MD Anderson's largest federal grant—which was funded by the National Institutes of Health.
While working at MD Anderson, Dmitrovsky fostered collaborations with 33 sister institutions in 23 countries, including the launch of a pain medicine initiative for cancer patients in Ethiopia, a country of 90 million people and few pain specialists.
Carla Hayden is the 14th Librarian of Congress and the first woman and first African American to hold the post. She is also the first professional librarian appointed to the post in more than 60 years. From 1993 to 2016, she was the CEO and executive director of the Enoch Pratt Free Library in Baltimore. In 2003-04, she also served as the president of the American Library Association.
Krishanti Vignarajah is the former policy director to First Lady Michelle Obama. She led the Let Girls Learn initiative, which brings together government agencies to address the challenges preventing adolescent girls from attaining a quality education. Before the White House, she served as senior adviser at the State Department under Secretary Clinton and Secretary Kerry.
Watch her speech here.
Cherian Thomas, MBA'12 is the chairman and CEO of Spotluck, Inc. The Spotluck mobile app provides real-time incentives for eating at local restaurants. He took the app from a Georgetown University master's deliverable to a monetized business ranked as one of the top apps on the iTunes App Store. After earning his MBA from Hood, he earned an Executive Master of Leadership from Georgetown's McDonough School of Business.
Watch his speech here.
Wil Haygood is an award-winning journalist and New York Times best-selling author. He was a Pulitzer Prize finalist while writing as a national and foreign correspondent at The Boston Globe. He then joined The Washington Post in 2002, where in 2008 he wrote, "A Butler Well Served by this Election," a story about Eugene Allen, a butler who worked for eight U.S. presidents, from Truman through Reagan, over 34 years. The story was the basis for the award-winning film "The Butler," directed by Lee Daniels. Haygood was an associate producer of the film. He wrote the New York Times bestseller "The Butler: A Witness to History" about how the story and film came to be.
Deborah A. Bonnani '78 served as the chief of staff of the National Security Agency from 2006 to 2013. She received the Exceptional Civilian Service Award, the NSA's highest honorary award, as well as the national Distinguished Service Medal from the director of national intelligence. She currently is an executive vice president and counsel of Federal Data Systems, Inc. and a member of the Hood College Board of Associates and the Graduate School Advisory Council. 
Randy McClement has been the mayor of Frederick since 2009. He has served on a number of boards and commissions that have given him a breadth of knowledge about the city of Frederick. In addition to being a member of the Frederick County Chamber of Commerce for over 12 years, he is a past president of the Tourism Council of Frederick County, where he was a board member for 13 years; a co-founder of the Frederick Alliance; a past vice president of Celebrate Frederick; a past president of the Frederick Chapter of the Maryland Municipal League; a past vice president of the Maryland Mayors Association; and a past president of the Maryland Mayors Association.
Thomas W. Geisbert, M.S. '88, Ph.D. was one of the Ebola fighters named collectively as Time magazine's "Person of the Year" for 2014. A 1988 Hood graduate school alumnus, he is known for helping discover the reston species of Ebola virus in 1989. This work was the subject of many articles in scientific literature and in the popular press, including Richard Preston's best-selling novel "The Hot Zone." Geisbert is a professor in the department of microbiology and immunology at the University of Texas Medical Branch at Galveston and the Galveston National Laboratory. 
Claire Shipman is an award-winning television journalist and senior national correspondent for the ABC program "Good Morning America."
Keith R. Harris, Ed.D., M.S. '99 is the executive director of Accelerating Achievement and Equity for Frederick County Public Schools and former director of schools for FCPS. He is a former adjunct instructor in the graduate school's educational leadership program, which he helped to develop. He also was one of the original forces working to start Hood's doctoral program.
Antonio Mendez is a former Central Intelligence Agency officer who single-handedly engineered and led the rescue of six American diplomats from Iran during the 1979 hostage crisis, a daring operation that was the focus of the 2012 Oscar award-winning film, "Argo."
Retired Army Col. Zygmunt Dembek, M.S. '82 has made lifelong accomplishments in the fields of biodefense preparedness and biochemical research related to countering bioterrorism and infectious disease outbreaks. Since 2014, he has served as a senior research scientist and medical preparedness consultant for Battelle, a global research and development organization. He retired from the U.S. Army Reserve in 2011 after over 34 years of service.
Are you ready to say Hello?
Choose a Pathway
Information will vary based on program level. Select a path to find the information you're looking for!