Doctoral Alumna Focus | Cheryl Dyson, DOL'22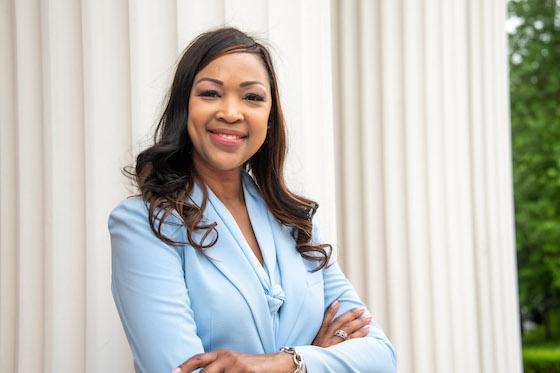 Cheryl Dyson, DOL'22, was recently appointed superintendent of Frederick County Public Schools. She plans to use the knowledge and skills gained in Hood's organizational leadership doctoral program to serve students, teachers and staff.
Superintendent of Frederick County Public Schools
Graduation Year
Program
Organizational Leadership (Doctorate)
Department
Degree
Doctorate of Organizational Leadership
Title
Cheryl Dyson began her career as a teacher in 1999 at Georgian Forest Elementary School in Silver Spring. She would spend the next 22 years working with Montgomery County Public Schools in various capacities. After transitioning to administrative and staff development roles, Cheryl served as a director of family and community engagement, director of school support and improvement of elementary schools, assistant principal, principal and area associate superintendent. In 2022, she was appointed superintendent of Frederick County Public Schools.
"One of my immediate goals is to build strong relationships. I want to know what people love about this school system and where they see opportunities for improvement," says Dyson. "How do we shape a vision that represents the voices of the larger community? Not only our students and staff, but also our families and neighbors."
Dyson feels all the more equipped to tackle the challenges of being superintendent thanks to recently earning her Doctorate of Organizational Leadership from Hood College. After spending three years in the cohort-based doctoral program working alongside likeminded peers under the guidance of expert faculty such as Anita Jose, Ph.D., Dyson is poised to turn theory into practice. She intends to use her newfound knowledge and skills, coupled with her decades of professional experience, to continue serving the needs of students, teachers and staff.
"The doctoral program at Hood impacted me both personally and professionally. I needed a cohort of accountability partners who could challenge and support each other. That is exactly what I found at Hood," says Dyson. "I will forever be an ambassador for the program. It's rigorous, but it's worth every minute of your time."
Prior to her DOL, Dyson received a B.A. in communications from Towson University and an M.A. in curriculum and instruction from the University of Maryland at College Park. A strong desire to make a difference in the lives of children motivated her to pursue a career in education. She explains that being an educator means having a sense of humility and knowing that learning is a lifelong journey. Her motto is, "Every child. Every day."
Dyson believes that when it comes to fulfilling the inherent potential inside each child, academics are only a single part of a much larger picture. Equitable practices and emotional wellbeing are also crucial to student success.
"To me, reaching every child every day is about learning their stories and advocating for our students in a way that allows them to be heard," says Dyson. "We want their needs to be managed and addressed, so it's like creating an action plan for each of our children."
The Hood community couldn't be more proud to see Cheryl leading FCPS and working to ensure Frederick's children receive the opportunities they deserve.
Learn more about the doctoral program in organizational leadership here.
Are you ready to say Hello?
Choose a Pathway
Information will vary based on program level. Select a path to find the information you're looking for!