Graduate Faculty Focus | Jennifer Cooper, DNP, RN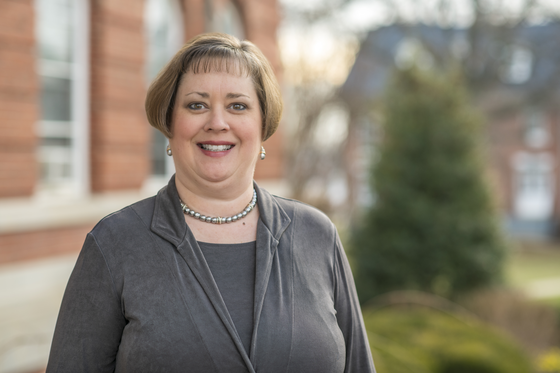 "My bachelor's program for nursing was in a small liberal arts college. I enjoyed the small, communal environment and wanted to continue experiencing that as an educator. I also appreciated the College's history with the Frederick community and reputation for mentoring students."
Jennifer Cooper, DNP, RN, PHNA-BC, CNE
Program
Nursing (MSN)
Nursing (BSN)
Department
Jennifer Cooper, DNP, RN, PHNA-BC, CNE, is the current chair of the Hood College Department of Nursing and is the program director of the brand new M.S. in nursing at Hood College. Cooper has been at Hood since 2016. Before Hood, she earned her DNP from George Washington University in 2016, her MSN from Rush University in 2011 and her BSN from Cedarville University in 1995. Cooper's research interests include prevention and management of chronic disease in the community.
Cooper is also the past-president of the Association of Public Health Nurses and currently serves as liaison to the Million Hearts® Collaboration. Locally, she serves as a board member of the Maryland Nurses Association and leads Hood Million Hearts, which aims to prevent cardiovascular disease at Hood College and in the greater Frederick community.
Could you briefly describe your career and educational background?
I did a bachelor's in nursing program for four years and graduated in 1995. I got my registered nurse license shortly after that, and I wanted to get the bachelor's degree never thinking I would go on to do graduate work. Instead, I worked as a nurse for 12 years, mainly in community settings. I went back to school for my master's in nursing. I later returned for my doctorate in nursing, with my track focusing on education.
I knew that I wanted to teach after getting my master's. In education, you typically need a doctorate to teach students, so I obtained that as well. My specialty right now is in community and public health nursing.
What brought you to Hood College in particular?
I came to Hood College in 2016, back when the four-year nursing program was fairly new. My bachelor's program for nursing was in a small liberal arts college. I enjoyed the small, communal environment and wanted to continue experiencing that as an educator. I also appreciated the College's history with the Frederick community and reputation for mentoring students.
How long has Hood had a bachelor's nursing program?
The College started with an undergraduate program in nursing around 2010 and continued for a while. The pre-licensure program for students who have never been nurses started in 2014. We've had six graduating classes. We're still small, but we have roughly 125 students in nursing courses, not counting those in level 1 courses such as biology.
What does the nursing program at the Graduate School entail?
We're part of the School of Behavioral and Health Sciences, which includes undergraduate nursing and public health programs as well as graduate nutrition and counseling programs. We are located at 800 Toll House Avenue in a building that the College is renting. We all collaborate educationally, and the students do social work as well. This has given us the chance to work with other departments to have labs and simulations, which helps students think like nurses. The close proximity to the hospital also helps. We recently introduced VR learning opportunities for students.
There are three tracks we are going to offer. The first is a leadership track—a nurse in that track would be the director of a healthcare setting, a chief nurse or the head of a unit. These are nurses that would lead the systems that they work in.
The second is an education track, which is meant to prepare nurses to teach nursing students. This will be very helpful because we have a shortage of educators in nursing programs.
The third is an adult-gerontology primary care nurse practitioner track. The nurse practitioners in this track can diagnose and treat people, which allows them to start their own primary care practice with the right certification.
How long has the nursing master's program been in the works?
We started talking about a graduate program for nursing for the past several years. Hood's faculty approved the program in spring 2022, and the proposal was approved by the Maryland Higher Education Commission (MHEC) in early 2023.
Are there any prerequisites for the nursing master's program?
We haven't finalized them yet, since the graduate council has to approve them. Students need to have a bachelor's in nursing, a 3.0 or higher GPA like other graduate nursing programs, professional references from their workplaces and résumés.
We are also going to ask them to do an essay on why they want to enter the program, what track they intend to pursue and what their career goals are. These are typical requirements for a graduate nursing program.
What do you hope to accomplish with this graduate program?
I hope that it will help us get more nurses into that "advanced practice role," since that would allow nurses to diagnose and treat patients. Nurse practitioners can fill that need in primary care. Hopefully, some nursing students will start their own practices after graduation.
My other hope is that certified nurses will get into teaching positions through this program. We also want to be good partners with Frederick Health and help students figure out what they want to do with their careers.
Are there any fun facts or trivia about yourself that you would like to share?
I'm in a small population of nurses that loves being in the community and not being in the hospital. I love solving those bigger healthcare problems, such as access issues and prevention. It's like a bit of detective work and problem-solving.
Interested in the new graduate program for nursing? Ready to #GOFURTHER in your career? Learn more about Hood College's graduate programs, such as nursing, by clicking here.
Are you ready to say Hello?
Choose a Pathway
Information will vary based on program level. Select a path to find the information you're looking for!