Graduate Student Focus | Nate Snitz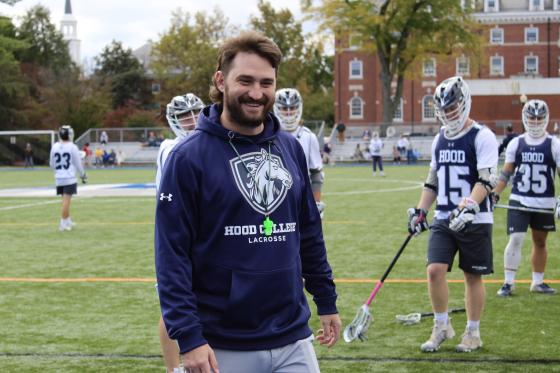 "I wanted to be in Maryland to be around lacrosse, since it has a much stronger lacrosse presence than in Florida. It was like fate finding the opening at Hood on the NCAA website. Speaking with Coach Brad Barber about the College helped me see that what I wanted out of college matched with what Hood had to offer."
Nate Snitz, M.A. Humanities
Program
Department
English & Communication Arts
Nate Snitz is a current student in Hood College's M.A. in humanities program, and is a graduate assistant coach for Hood College's men's lacrosse team. Nate graduated from Florida Atlantic University in 2021, earning a bacherlor's in interdisciplinary studies with a focus in sociology and a minor in anthropology. Nate has been coaching lacrosse at various levels for over 12 years and is enjoying his time as a member of Hood College lacrosse program.
How did you learn about Hood College? What interested you about it?
I applied to different jobs in my work to gain a master's degree. Hood College was one of the places I applied to. Researching the College and talking about it with my connections gave me a positive impression of it. I wanted to be in Maryland to be around lacrosse, since it has a much stronger lacrosse presence than in Florida. It was like fate finding the opening at Hood on the NCAA website. Speaking with Coach Brad Barber about the College helped me see that what I wanted out of college matched with what Hood had to offer.
I am studying humanities here. I thought it would be a good tie-in to what I was doing in undergrad, and it would be close to the work I was doing then.
How did you become an assistant lacrosse coach at Hood?
I went through the application process and interviewed with Coach Barber multiple times. The logistics were important, since I was living in Florida at the time. I had to figure out the move and where I would stay while going through the interviews. When I got the job, I had to pack up and move to Maryland within two to three weeks.
I think that I've fit in pretty well here. I already have coaching experience and have been involved in college athletics. Being around the academic and athletic landscape is familiar to me.
Coach Barber gives us a lot of freedom to be ourselves and be our own coach. I was used to that being more stringent with other coaches. Being an assistant coach is fun here because your boss lets you collaborate and execute things with great precision.
Part of my job is to evaluate how we're doing through film, analyze how we're doing on an individual basis and set up how we handle offense. I set up practice plans, run film sessions and create our day-to-day strategy on the offensive side of the ball.
Being an assistant coach also means doing individual meetings with the players. College is a crazy time for 18–21-year-olds, so we try to help them feel comfortable when they're struggling with personal, academic or athletic issues. I mentor them, lead them and teach them how to be great young men. I'm 30 years old, so I'm not your typical grad assistant. I have a little more life experience to share, so it's a unique experience being a graduate student at my age.
We just finished up the fall season for lacrosse, and we won't start the spring season until January 2023. Our first game of that season will be on February 21. We're feeling good about the team we brought in, and we think it'll be an exciting season.
How do you balance your work with your studies in the humanities program?
It's a juggling act. It's challenging, for sure, but it's something that has to get done. The days can be long, but I love what I do. I'm doing this for both the job and the degree, so I commit myself to both parts of my work. I try to check off as much as I can until the next day arrives. Time management is important.
Do you have any advice for grad students trying to maintain their work-life balance?
Try to sit down and do an hour or two every day. Make it a part of your schedule. If you work from 9-5, then you should set aside 6-8 for your master's degree. It can be tough to manage that at times, but in the long run it pays off.
Do you have any fun facts about yourself that you would like to share?
When I was 18, I started coaching as an assistant for a JV team in Douglas, Florida. I also played lacrosse at FAU and later on coached there. I handled different coaching jobs before returning to school, but my desire to coach at a higher level brought me back to college.
I was also a bartender for eight years. I worked in night life to get through coaching due to the schedules. I would coach in the early to late afternoons and then I would bartend in the early to late nights. There were plenty of late night closings to early morning coaching sessions during that time.
Inspired by Nate's story and ready to #GOFURTHER in your career? Learn about Hood's graduate programs, including the Mathematics Instructional Leadership Program, by clicking here.
Are you ready to say Hello?
Choose a Pathway
Information will vary based on program level. Select a path to find the information you're looking for!