Hiba Usmani '22 | Chair of the Board Scholar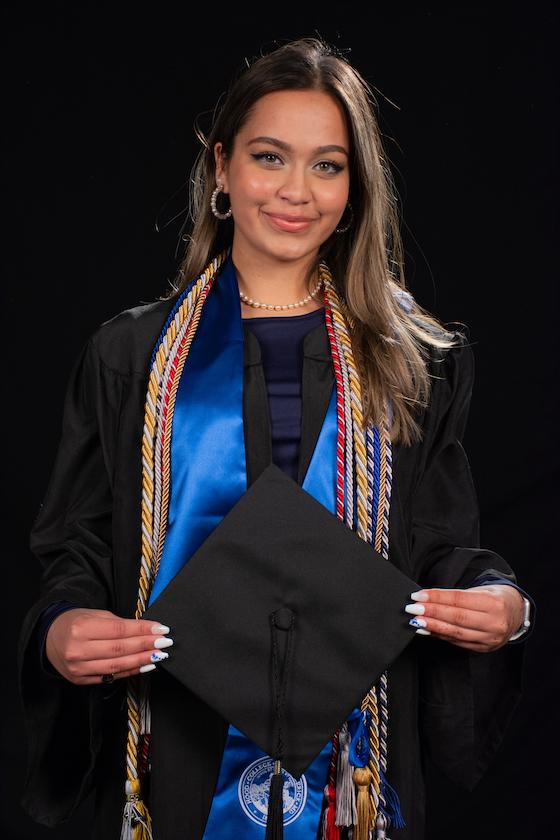 Hiba Usmani '22, a biology major and honors student who served as class president and was awarded the Chair of the Board Scholarship, reflects on her time at Hood as she prepares for graduation.
Q&A
Graduation Year
Program
Biology (B.A.)
Psychology (B.A.)
Department
Biology
Psychology & Counseling
Tell us where you're from originally and share a bit about your background before college.
I was born in Doha, Qatar, and moved to Gaithersburg, MD with my family at age one. I moved to Urbana, MD at age five, so I was raised in Urbana/Frederick much of my life. In high school, I ran track and field and played tennis. I was also involved in various extracurriculars and multiple honor societies (English/Math/Science). I took a few dual enrollment courses at FCC my senior year and I graduated from Urbana High School in May 2018. My family background is from Pakistan.
Why did you decide to attend Hood College and how did you become interested in your major?
The largest reason I decided to attend Hood College is the scholarship I received. A full-tuition scholarship was very persuasive to me because I knew that I wanted to attend a medical institution after my undergrad degree. For long-term financial planning, I decided it was most beneficial to study at Hood with the knowledge I will soon assume a large debt from that graduate-level education. Another factor was the ideal location. A 15-minute drive allowed me a short commute and study from the comfort of my home. Lastly, a family friend who recently graduated from Hood and was successful in her endeavors of medical school spoke greatly of Hood's biology department and honors program with such high praise that it encouraged me to apply to Hood College in the first place. Although I initially decided to attend Hood for logistical reasons, as soon as I started my career here, I quickly appreciated and fell in love with all that Hood had to offer and decided to stay for all four years with no regrets!
I became interested in a biology degree because I have always been fascinated with science. At a young age, I knew I wanted a career in medicine. I was originally accepted to Hood as a nursing major in the BSN program. However, after taking a few biology courses my freshman year and talking to the biology professors about my potential, I realized I wanted to study biology at a more intense level and have the freedom of exploring other career choices. With the flexibility of a biology degree, I was able to minor in psychology and fulfill the honors program requirements. Additionally, it gave me the time I needed to find the career that is most fitting for me. Looking back as a senior, I am very happy to have made that choice.
How has receiving the Chair of Board Scholarship benefited you?
The Chair of the Board Scholarship has benefited me in so many ways. Primarily in that I was able to focus all my time and energy on my education. Without all the external stress of where my tuition was coming from, I devoted myself to getting the best possible grades and being an overall ideal student. I appreciate all the connections and prestige that I receive from possessing this high honor. I am very grateful that I was able to receive this scholarship and I truly believe it is one reason I am who I am today and what I will become in the future.
What has been a challenge you faced during your time at Hood and how did you overcome this obstacle?
The largest challenge I faced would have to be the COVID pandemic. My peers would agree with me when I say that learning through the pandemic was a period of adjustments. The changes in modality and format of classes were very different from what we had grown up with. I overcame this obstacle by opting for in-person classes whenever offered, maintaining frequent contact with my professors to stay up to date with assignments and asking for help whenever necessary. I believe I performed well academically throughout the pandemic mainly because I had the support of my peers; we were all optimistic and went with the flow knowing we would eventually get through our classes together.
Another challenge I faced was in regard to my larger goals. Applications for medical programs require a certain amount of shadowing and clinical hours and the pandemic limited my ability to do so. It was difficult to find opportunities for students, as it was considered a dangerous work environment. I was even laid off from my first job. However, after seeking anything with potential, I found another job as a medical assistant to keep getting the experience I needed without taking too large of a break.
What is your proudest achievement during your time at Hood?
My proudest achievement is that during my time at Hood, I feel like I was able to do it all: be my most happy and confident self, make an impact at Hood and be successful in reaching my post-grad goal. Throughout the past four years, I have been a full-time student, a part-time worker and a campus leader, all while maintaining my personal health, social circle and family obligations. I willingly chose to be an active member at Hood by taking on leadership roles, such as president of Mortar Board and president of the Class of 2022 because I genuinely enjoy always being involved. I find it to be a way I can give back to the community for all that it has given me. At times my schedule is packed, but I prefer it that way. Honestly, my "to-do" list will not be fully complete until I graduate!
What are your plans for after graduation?
After graduation, I plan to attend Physician Associate school in Philadelphia, PA. I am accepted to a two-year program and am scheduled to begin in July 2022.
Do you have any advice to offer newly admitted Hood students?
I would say to take advantage of all that Hood has to offer. Make Hood your own. Everyone's college experience is going to be different and that is okay. Do what you think is best for you and for you to achieve your higher goals.
Are you ready to say Hello?
Choose a Pathway
Information will vary based on program level. Select a path to find the information you're looking for!