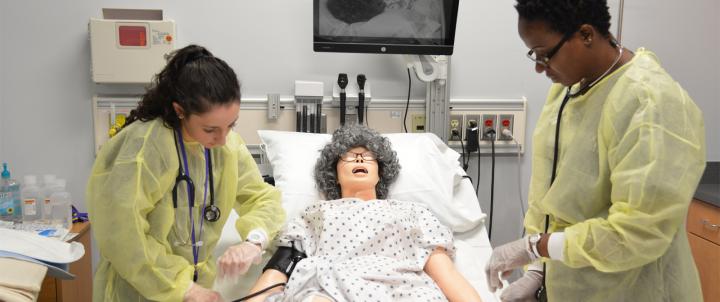 About this Program
The nursing program at Hood College provides advanced skills for the increasingly complex healthcare field through a focus on leadership, research, evidence-based practices, critical thinking, nursing theory and communications.
Program Overview
Nursing Department Mission
The Hood College Department of Nursing strives to prepare nursing students for reflective, culturally humble nursing practice through the systematic study of the liberal arts and the science of nursing. By promoting the exploration of innovative practices, the incorporation of technology and research, and the pursuit of knowledge and clinical judgement, we inspire nursing students to advocate for the improved health of the individuals, families and communities.
Student Outcomes
Integrate nursing science, humanities, and behavioral and physical sciences as a basis for safe nursing practice including clinical reasoning, critical thinking and judgment.
Provide caring and competent nursing care to culturally diverse clients in a changing and complex healthcare environment across the lifespan.
Support optimal health outcomes for patients, families, communities and populations through actions that include health promotion, disease prevention, autonomy and advocacy.
Utilize effective communication strategies to collaborate with multidisciplinary teams to provide patient-centered care.
Safely utilize information technologies to promote optimal patient care.
Apply basic organizational and systems leadership for quality care, ethical practice and patient safety.
Cultivate professional development by making a commitment to life-long learning and professional activities.
Evaluate the health policy, regulation and payment process for the improvement of health care for all.
Integrate research, ethical principles and patient preference into clinical decision making through evaluative nursing practice.
How to Apply
The nursing program at Hood College is competitive, and the application process is completed in two steps; students will be accepted to the College before they are evaluated for admission to the nursing program.
For more information about applying to the nursing program as a freshman, click here. For more information about applying to the nursing program as a transfer student, click here.
BIOL 104, BIOL 204, BIOL 232

CHEM 100 or 101, CHEM 105

PSY 101, PSY 239

SOC 101

PHIL 221 or approved alternate

 
MA 112 (or PSY 211 or ECMG 212) is also a required course for nursing; however, it is not included in the 2-course repeat policy.
Students who do not achieve a minimum grade of C in a nursing-required course may repeat that course once to earn a grade of C or better. Students are permitted to repeat a maximum of two nursing-required courses (each only once), to meet the nursing program requirements. The policy includes nursing-required courses taken at other institutions. Students are permitted to repeat one Nursing course (NUR prefix) once.
Accreditations
Our program is accredited by the Commission on Collegiate Nursing Education.
SIM Labs
State-of-the-art simulation labs provide hands-on practice in a controlled environment.
Experiential Learning
Complete clinical fieldwork with local partners such as Frederick Health Hospital, Brook Lane Health Services and the Frederick County Health Department.
Point of Pride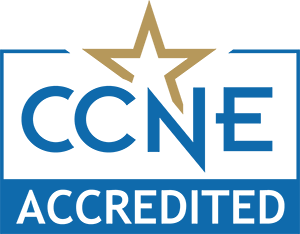 The Hood College nursing programs are approved by the Maryland Board of Nursing and the Maryland Higher Education Commission. The baccalaureate degree program in nursing at Hood College is accredited by the Commission on Collegiate Nursing Education.
All Faculty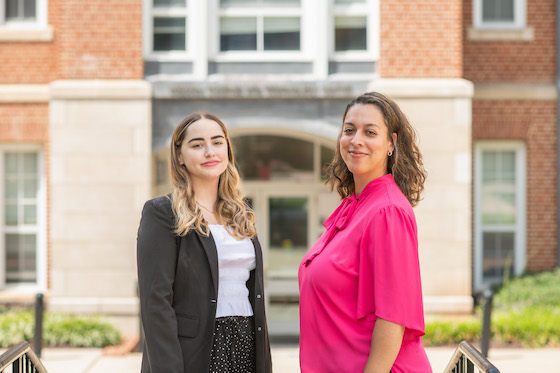 Q&A with Jennifer Dumps '22 and Erika Henriquez '24
Alumni Undergraduate Student
The DAISY Award recognizes the extraordinary work of nurses throughout the country. Hood College nursing alum Jennifer Dumps '22 and current student Erika Henriquez '24 are both proud recipients of this honor. In this conversation, they discuss their time in Hood's nursing BSN program and what it means to be a DAISY Award winner.