Meet Environmental Biology Graduate Student | Karl Kidd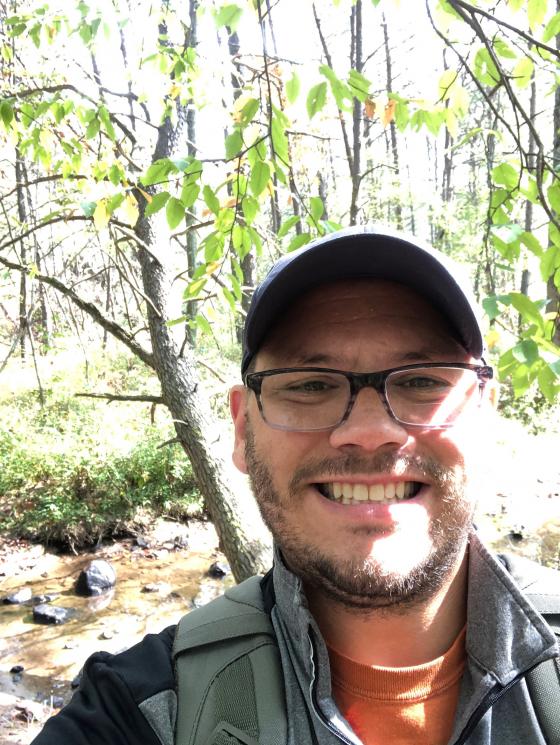 "I enjoy the Hood faculty the most. They teach me so much about myself as an educator"
Karl Kidd, M.S. Environmental Biology
Program
Environmental Biology (M.S.)
Curriculum and Instruction (M.S.)
Department
Can you give a quick bio and general background?
I was born and raised in Baltimore County on a peninsula off Frog Mortar Creek and Middle River. Boating, fishing, crabbing, and swimming were a large part of my upbringing. I graduated in 2006 from Frostburg State University with a B.S. in Biology. I worked in a private school for three years before transferring to Frederick County Public Schools in 2009. I graduated with a M.S. in Curriculum & Instruction in 2010 from Hood College. My wife and I met at Frostburg and were married in June of 2006. She is also a teacher at FCPS.
I have been involved with curriculum writing on both the county and state level, and have sat on several committees and tasks forces. In 2013, I was named Frederick County Teacher of the Year. I also participate in several programs through the Maryland Department of Natural Resources and have taken professional development training through the Chesapeake Bay Foundation.
Can you share some examples of your creative and hands-on teaching style?
In the classroom, I take a hands-on approach to education. We raise several organisms through programs with the Maryland Department of Natural Resources and Trout Unlimited. The students participate in fish dissections and other labs to learn the inner workings of an ecosystem. Many of our topics revolve around ecology and environmental issues to bring learning to life.
Incorporating the arts and reading into STEM has made for a STREAM classroom. This year, with the help of a Maryland Department of Natural Resources training, we are targeting stream restoration for a local waterway to study human impact on the environment. Field trips and other outdoor experiences are an integral part of my classroom. Getting students to interact and collaborate as much as possible helps to build those important social skills for later in life.
How you are leveraging your Hood graduate education?
My Curriculum & Instruction graduate degree has really helped with being able to plan and implement curriculum-based activities and assessments, not only in my classroom, but also for the county and state. It has helped me to look at the many facets of education through a more diverse lens; and given me a strong teaching foundation. My M.S. in Environmental Biology will hopefully help me transition to secondary education in the near future. It is also developing my love of the outdoors and the Chesapeake Bay. One day, I would love to do more with our Maryland environmental literacy standards, and possibly teach at the post-secondary level.
Why did you choose Hood College?
I started my initial graduate work in Education at another Maryland school. Hood College was closer to my new home in Frederick, MD and after visiting, I knew it was the right fit. Hood College was small but diverse, welcoming and accommodating--it felt like home. The teachers and classmates I have interacted with continue to make a lasting impact on me and my career. 
What do you enjoy most about your time at Hood College? Do you have a favorite memory?
I enjoy the faculty the most. They teach me so much about myself as an educator. There were a lot of choices in Maryland in the field of Environmental Science, but Hood College remained my first choice!
Any other information/fun facts you would like to add?
I am a scout leader for a local troop and was named Cub master of the Year in 2019.
Inspired by Karl's story & ready to #GOFURTHER in your studies and career? Learn more about Hood College graduate programs, including the Environmental Biology program, by clicking here.
Are you ready to say Hello?
Choose a Pathway
Information will vary based on program level. Select a path to find the information you're looking for!