Spotlight on GSA President | Maria Guiza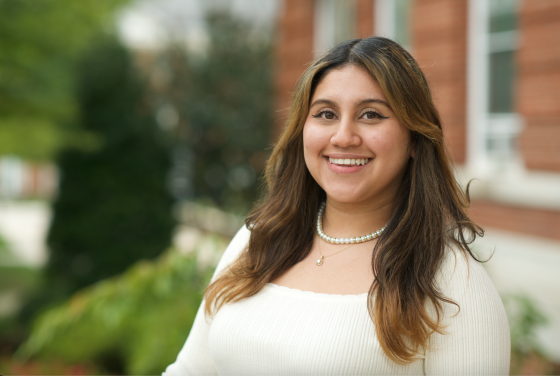 "My role is to try to enrich graduate events and networking opportunities. The GSA communicates with graduate students and reaches out to them about their needs and their graduate experience."
Maria Gabriela Guiza, M.S. Environmental Biology
Program
Environmental Biology (M.S.)
Department
Maria Gabriela (Gabby) Guiza, M.S.'22, is a current student in Hood College M.S. in environmental biology program and is the new president of the Graduate Student Association (GSA). This is Gabby's second master's program at Hood College, as she earned her master's in biomedical science in May 2022. Gabby also volunteers at a local optometrist's clinic as a scribe and a translator. Before coming to Hood, Gabby earned her bachelor's degree from University of Maryland, College Park, in biology.
*Tune into Gabby Guiza's A Degree Further podcast episode to learn more about her!
What made you want to attend Hood College?
I found out about Hood College because I have a really close friend who went to the College and recommended it. I knew that I wanted to stay local for my master's degree.
When I visited, I spoke with The Graduate School and Professor Ann Boyd, biomedical program director. They made me feel like I really belonged here, and they showed how flexible the master's programs were at the College. I fell in love with Hood, and I believe that it really cares about its students.
How did you first get involved in the Graduate Student Association (GSA)?
My first two years at Hood College were remote due to the pandemic. I only saw the other students through the remote classes on the computer. However, the GSA sent out plenty of emails for events encouraging grad students to interact with each other. I participated as much as I could in the graduate events. There were some good networking opportunities at the events, too.
What was it like to become the GSA's president?
It was very exciting and unexpected. Life was very different when I got the position due to how remote everything was. I wanted to be engaged with the College and the other grad students. I had a lot of ideas to make grad students feel more connected. I wanted to enrich their time at The Graduate School.
What is your role in the organization, and what do you hope to accomplish with it?
My role is to try to enrich graduate events and networking opportunities. The GSA communicates with graduate students and reaches out to them about their needs and their graduate experience. Right now, my team and I are focused on a big project to establish career-enriching events. For example, we have workshops focused on using LinkedIn. We hope to better student LinkedIn profiles and enhance how they present themselves to the workforce. We would also like to do resume workshops and mock interviews to help students with the job hunt.
Our goal is to make sure each student is prepared for life post-graduation. On a lighter note, we would like to host holiday events for grad students as well. I hope we can bring these events to life!
How do you balance your life as a grad student and the GSA president?
I try to make a schedule for myself—a list of things that I want to accomplish each day. Time management is key for the position, even if it is difficult. Keeping up communication with Hood College's administration is also very important.
Do you have any advice for prospective graduate students?
Reach out and really try to discover Hood College's clubs and organizations. Attend some games and social events. I would encourage students to find more time to interact with the community. It is very beneficial to know people and be part of things around the campus.
Are there any fun facts about yourself that you would like to share?
I play guitar. I like drawing and sketching as well. I also like to cook—both for myself and for my friends. I show my love and appreciation by gifting food.
 Inspired by Gabby's story and ready to #GOFURTHER in your career? Learn about Hood College's graduate programs, including the environmental biology master's and GIS certificate programs, by clicking here.
Are you ready to say Hello?
Choose a Pathway
Information will vary based on program level. Select a path to find the information you're looking for!