Who Teaches the Teachers?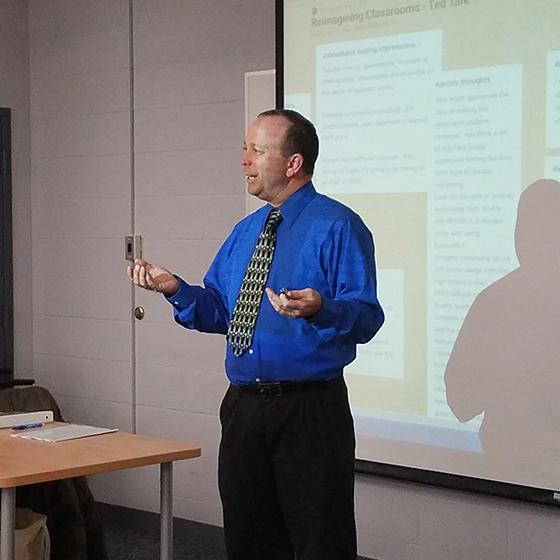 Harry Hanna, an adjunct instructor in education for Hood, earned his master's degree in education at Hood.
Harry Hanna
Program
Educational Leadership (M.S., C)
Involvement
Department
Degree
Master of Science in Educational Leadership
Harry Hanna, one of many exceptional adjunct instructors in Hood College's education programs, has multiple connections to Hood, from being caught by college security toilet papering cars on campus in his much younger days, to marrying a Hood graduate, to working at a summer program hosted at Hood and staying in the residence halls before men were allowed to live on campus. He later earned his M.S. in Educational Leadership from Hood, and now teaches in the education department.
As a young man in California, he worked various jobs while finishing high school and then attended community college while working. At 20, he joined the United States Army, and after basic training in Kentucky and advanced training as a medic in Texas, was assigned to Fort Detrick in Frederick, MD, where he first heard about Hood College. Hanna explains; "at the time, Hood was primarily a women's college and someone at Fort Detrick told me that I was going to love the post and that there was a women's college a mile from the base." While stationed at Detrick, he took classes at Frederick Community College and finished his A.A. degree while working in the Virology Division at the United States Army Institute of Infectious Diseases (USAMRIID). He became friends with some of the Hood College students who were interning at the base and learned more about the college and its programs.
After finishing his enlistment, Harry decided to pursue a degree in elementary education at Towson University, where he became the first member of his family to graduate from college. At the same time, he continued to make friends with Hood students, and ending up dating Hood student Barbara Wood, '97, whom he married a year after she graduated. They moved to California for a few years where Harry taught middle school and Barbara elementary. In 2002, they returned to Frederick and both began working for Frederick County Public Schools at Twin Ridge Elementary. They've now been married for almost 20 years, have four wonderful children, and still get together with her best friend from Hood at least once a year!  
Harry has worked for FCPS in various positions, and then finally made it to Hood as student, earning his Master's in Educational Leadership in 2007. While working at Centerville Elementary as a Technology Staff Developer and Reading Intervention Teacher, he was recruited by a Hood adjunct to teach EDUC 502, Technology for Literacy, Leadership and Learning, a core course for the 
Curriculum and Instruction
,
Educational Leadership
, 
Reading Specialization
, and STEM certificate graduate programs. The course looks at instructional technology and "discusses how technology fits within the modern and traditional classrooms." He has taught many graduate students, who describe him as "motivating." One current student explains that his class gave her "not just real things I can use, but the ways and means and comfort to use them".
See a clip of Harry teaching a class 
HERE
Why Hood? Harry explains; "I truly have been blessed by Hood in many ways and I have spent the better part of a decade now teaching teachers how to incorporate technology in their classrooms, whether they are educators in Maryland, West Virginia or even Saudi Arabia, (where two current students are from). I love teaching this course because the content is dynamic since the changes in technology keep it fresh and engaging. We ask our students to take risks when it comes to incorporating technology in their teaching, and we can model it ourselves. I always hope that my students take away from the course a shift in mindset in the way they look and view technology. It is a tool to help students be successful, to think critically and not just be consumers of technology and information, but creators of it. I really want teachers to know that, even if they aren't totally comfortable with a particular program, app or piece of technology, that it is OK if students might know more about it than they do. Teachers shouldn't use technology just for technology's sake, but to develop those higher order thinking skills through creativity, collaboration, content creation and connection. These are some of my goals for my graduate students. Hood has been a big part of my life and I am #Hoodproud!"
Are you ready to say Hello?
Choose a Pathway
Information will vary based on program level. Select a path to find the information you're looking for!