Alumna Emily Adesina Named Director of Georgetown Hill Lab School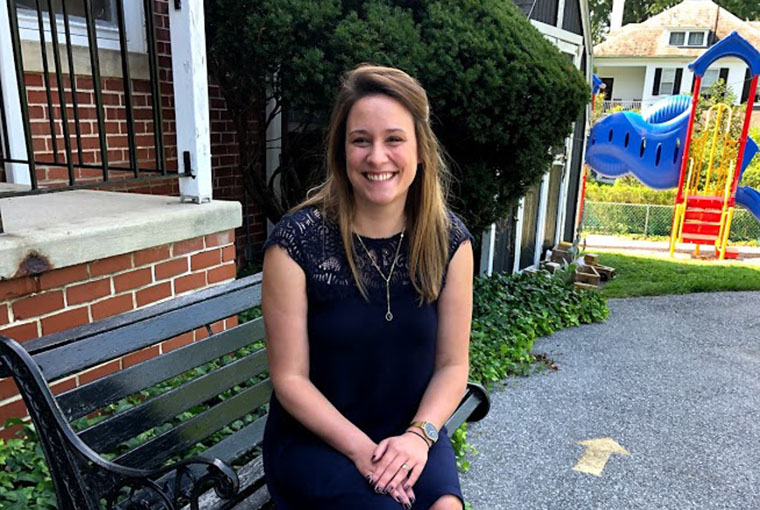 FREDERICK, Maryland—Emily Kraatz Adesina '14, M.S.'19 has been named director of the Georgetown Hill Lab School at Hood College.
In the spring, Hood's Onica Prall Child Development Laboratory School partnered with Georgetown Hill Early School for the 2019-20 school year to extend the lab school's hours, add to the curriculum and provide after-school programs.
Adesina graduated magna cum laude from Hood in 2014 with a bachelor's degree in early childhood education and in 2019 with a master's degree in educational leadership. She is a former student of Marisel Torres-Crespo, the previous director of the lab school, who was recently named as the coordinator of online instruction for the Graduate School.
"Emily is a beautiful human being who gives 100 percent in everything she does," said Torres-Crespo. "One of my best students ever and an example to follow. I am really happy she is the new director of the lab school because she understands the importance of developmentally appropriate practices in the early years and how essential play is in children's development. She also recognizes family involvement as a key role in early childhood education."
During her undergraduate work, Adesina conducted research in the lab school on how preschoolers learn about STEM concepts through play. This research was presented at the Strong National Museum of Play and later published in the SRATE Journal of Education. She went on to work for Frederick County Public Schools as an early childhood teacher and leadership intern before accepting a position with the Georgetown Early School.
"As a Hood College alum, I couldn't be more excited to be back for this exciting partnership between Hood College and Georgetown Hill Early School," said Adesina. "The lab school at Hood has an amazing history of 90 years serving young students. Georgetown Hill has revolutionized childcare and early development for almost 40 years. I look forward to seeing how these legacies will merge and grow in the years to come."
For more information about the Georgetown Hill partnership, read this press release.
Media Contact
Education
Education Graduate Programs
Staff