Dance Ensemble to Perform Spring Concert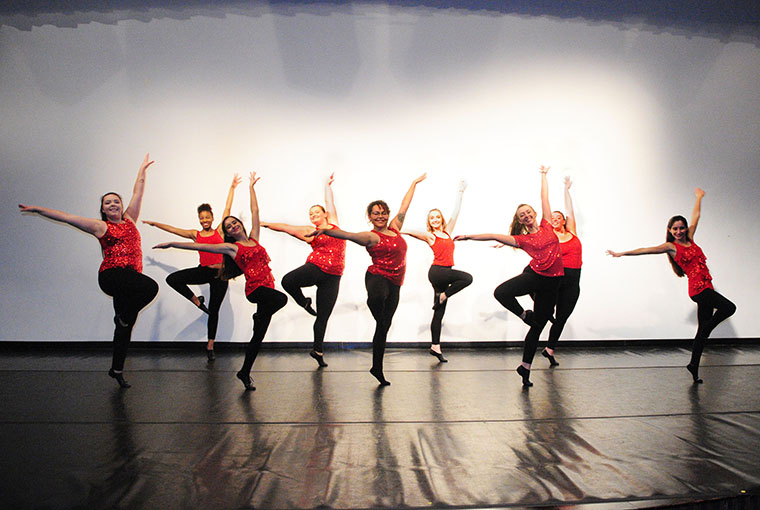 FREDERICK, Maryland—The Hood College Dance Ensemble Spring Concert will be held April 26 and 27 at 7:30 p.m. in Hodson Auditorium in Rosenstock Hall.
Some of the dances include co-captain Holly Barnett's jazz piece to "Let's Get Loud" by Jennifer Lopez; Layla and Gabriella Basile's tap number to "Footloose" by Kenny Loggins; a contemporary piece by Caroline Jeranek to "American Horror Story" by Cesar Davila-Irizarry; a ballet, tap, jazz fusion set choreographed by Layla Basile to "This Is Me" from The Greatest Showman; Philippine Leclerc's modern piece to "Loyal" by Odesza; a group tap number by Caroline Jeranek to "Under Pressure" by David Bowie and Queen; a modern piece by guest choreographer Kristine Genovese to "Fireflies" by Cecil Corbel; and a jazz piece choreographed by artistic director Fran Marsili to Paula Abdul's "Dance Like There's No Tomorrow." Guest performers, Souls of The Feet Dance Company, will also present two dance selections.
The concert is free and open to the public. For more information, contact Fran Marsili at marsilif@hood.edu.
Media Contact
Tommy Riggs
Assistant Director of Marketing and Communications