Data Driven Frederick Opens Following Ceremonial Ribbon Cutting
Community partners and elected officials convene for unveiling of The Michael S., P'09 and Marlene B. Grossnickle Young '76, H'14, P'09 Data Driven Frederick Center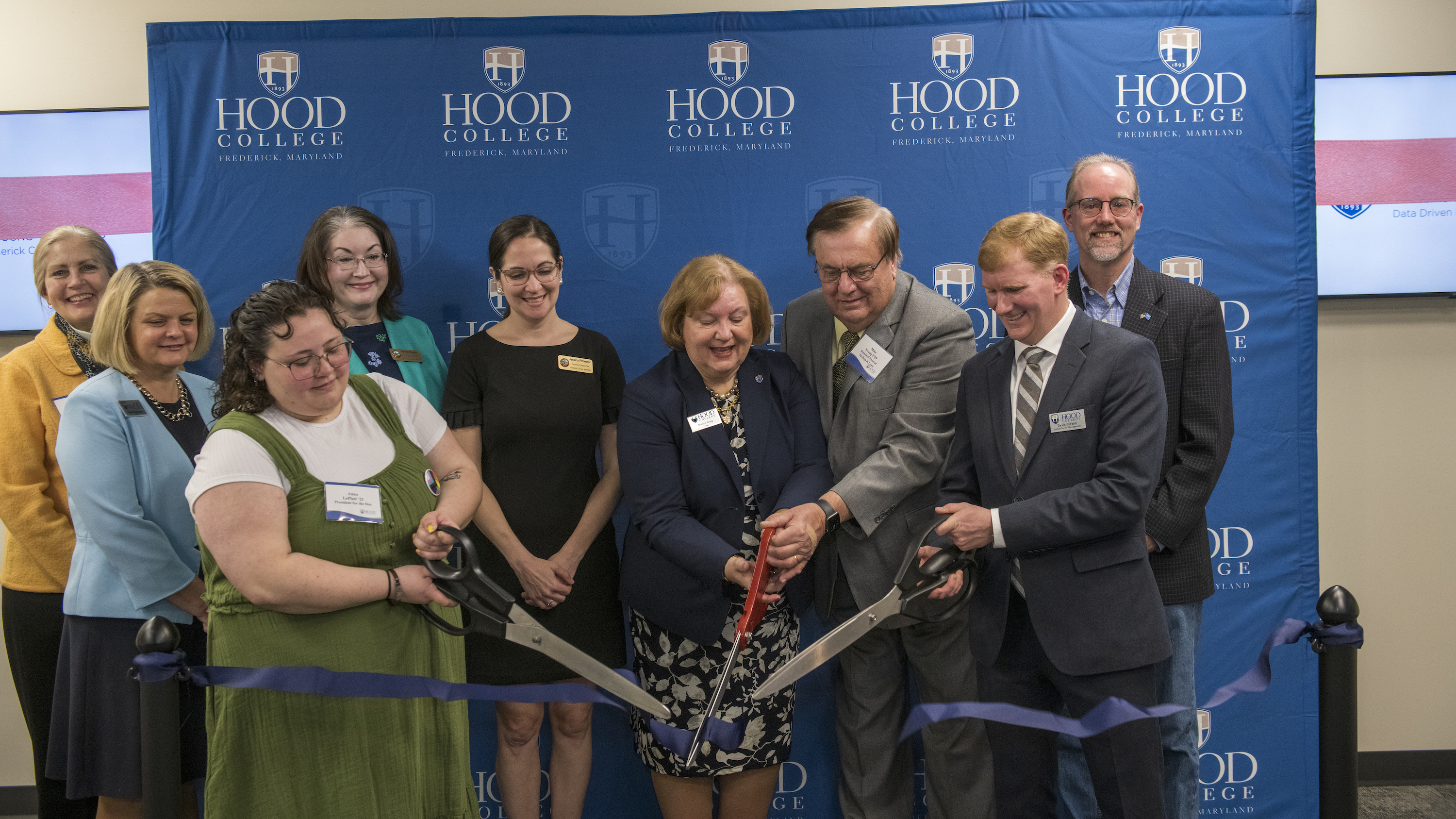 On Friday, March 31, a crowd of nearly 100 guests gathered to celebrate the official launch of The Michael S., P'09 and Marlene B. Grossnickle Young '76, H'14, P'09 Data Driven Frederick Center at Hood College. The ribbon cutting ceremony was presided over by President Andrea E. Chapdelaine, Ph.D., who was shadowed by graduating senior and "President for the Day" Anna LePlatt '23. Several elected officials and leaders from local organizations also gave remarks, including Mayor Michael O'Connor, County Executive Jessica Fitzwater, M.S.'10, and Rachel Mandel, M.D., MHA, of the Community Foundation of Frederick County.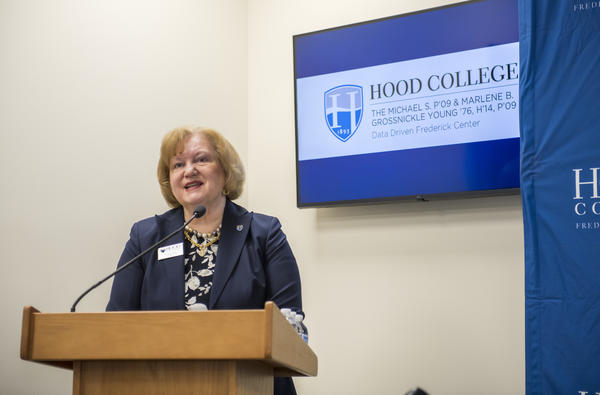 Data Driven Frederick (DDF) was made possible thanks to a lead gift from Michael S., P'09 and Marlene B. Grossnickle Young '76, H'14, P'09, who have been tremendous supporters of the College. The Youngs previously established two scholarships for Hood students majoring in business, education or the humanities, in addition to a wide variety of philanthropic giving for schools, charities and community organizations throughout Maryland.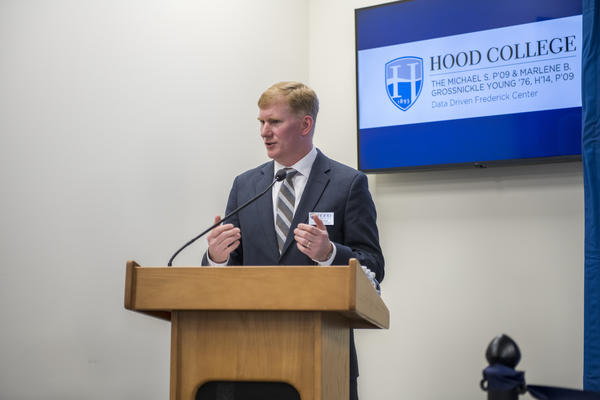 Marlene Young has been a member of the Hood College Board of Trustees since 2016 and serves as chair of the Institutional Advancement Committee and vice chair of the Trusteeship and Governance Committee. In 2014, she was awarded an honorary Doctor of Humane Letters for leadership and service as well as contributions to the College and Frederick County.
"We immediately recognized the potential and powerful possibilities of having an easily accessible, centralized data hub, supported by a diverse set of community partners," said Marlene Young. "[The center] will drive progress through measurable outcomes and positively impact the future of Frederick County and the region at large."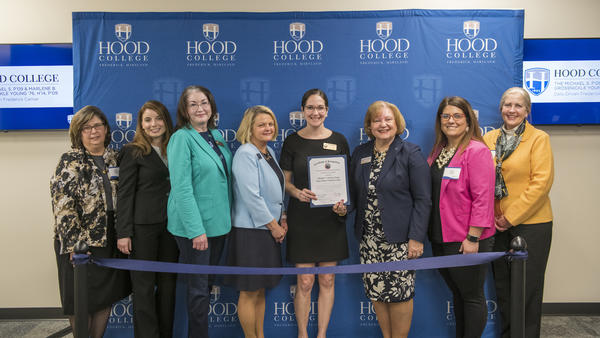 As part of The George B. Delaplaine Jr. School of Business, DDF is poised to enhance the curriculum by providing students with meaningful, real-world projects. One of the center's goals is to widen accessibility to data discovery, visualization and interpretation. This will be achieved through developing community-wide dashboards with a shared data pipeline for users, including nonprofits, philanthropies and municipal offices in conjunction with Hood faculty and students.
"As we witness the rapidly evolving world around us, it is evident that the most progressive organizations are increasingly adopting data-driven management strategies," said David Gurzick, M.S.'03, Ph.D., chair of the School of Business. "By leveraging the power of data, we're able to make more informed decisions, develop more effective strategies, craft metrics for accountability and ultimately create a more significant, positive impact on our community."
Gurzick described the need for organizations to access high-quality data, but more importantly, to maintain the technical support and expertise needed to effectively utilize that data. DDF will act as a "neutral broker and manager of data," providing a secure location for reporting, managing and sharing data.
On behalf of the Frederick County Council, County Executive Fitzwater presented a certificate of recognition to the College. "Collective impact, data-driven decision making, accountability, transparency, inclusion and equity—those are huge parts of my administration's core values," said County Executive Fitzwater. "We are incredibly excited to see what this partnership is going to bring in the future."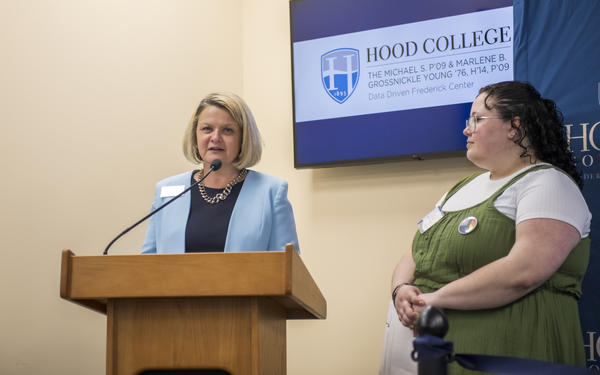 O'Connor also presented a certificate of recognition to the Youngs, citing their ongoing commitment to the Frederick community. "When we deploy resources where the need exists and look across our Department of Public Works, data drives that decision-making process," said O'Connor. "The data underlies why we do what we do."
DDF was also made possible by congressionally directed spending via the Fiscal year 2023 Omnibus Appropriations Bill, secured by U.S. Senators Ben Cardin and Chris Van Hollen (D-Md.). The Senators presented a host of projects, including DDF, to the Appropriations Committee as part of a nationwide campaign to invest in STEM education and workforce development.
"[Hood College] identifies our capacities and resources that can be a value to this community and then collaboratively work together for maximum impact," said President Chapdelaine. "Data Driven Frederick is the perfect manifestation of this synergy, built from a shared need, vision and commitment."
Media Contact