Exhibit Featuring 1980s and 1990s Objects on Display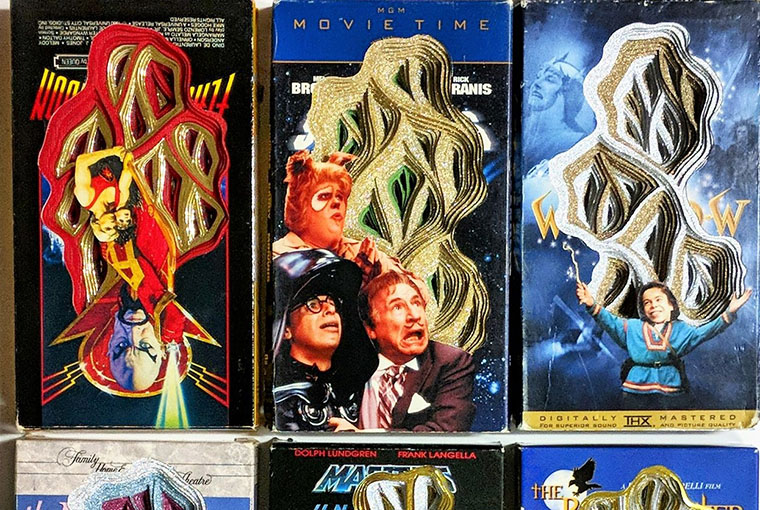 FREDERICK, Maryland—An art exhibition of hand-cut paper sculptures integrated with found objects from the 1980s and 1990s will be on display Aug. 29 through Oct. 20 at Hood College.
The exhibit, "Video Viscera," by South Carolina-based artist Charles Clary is a blend of intricate sculptures constructed by layering dozens of vividly-colored, hand-cut, concentric shapes with three-dimensional found objects such as old VCR tape boxes and children's toys. The exhibit, in the Hodson Gallery in the Tatem Arts Center, will be open daily from 9 a.m. to 7 p.m.
Clary's creations are the result of a deep personal tragedy—the death of his parents to smoking-related cancers in February 2013. He views the retro-pop culture items as representations of how he escaped into a realm of childhood fantasy and fiction to cope with his everyday realities. The movies and games became the surrogate parents he longed for, and provided him the means to find order in the chaos of sickness and loss. The paper sculptures, which mimic microbes or viral colonies, deteriorate the surface of the objects and grow, much like a cancer, into the interior.
Clary was born in 1980 in Morristown, Tennessee. He earned his bachelor's degree in painting from Middle Tennessee State University and his master's degree in painting from the Savannah College of Art and Design. He has shown in exhibitions across the eastern U.S. and internationally. Clary has also been featured in publications including 500 Paper Objects, Paper Works, Paper Art, Papercraft 2, PUSH: Paper, and The New Twenties. In 2016, he won the top prize at the ArtFields Competition in Lake City, South Carolina, an annual, nine-day exhibition and art competition that draws entrants from across the country. Clary currently resides in Conway, South Carolina, and is a professor at Coastal Carolina University.
The exhibition is free and open to the public. For more information, contact Michelle Schulte, gallery director, at schulte@hood.edu or 301-696-3285.
Media Contact
Tommy Riggs
Assistant Director of Marketing and Communications