Former Military Musicians to Perform on Campus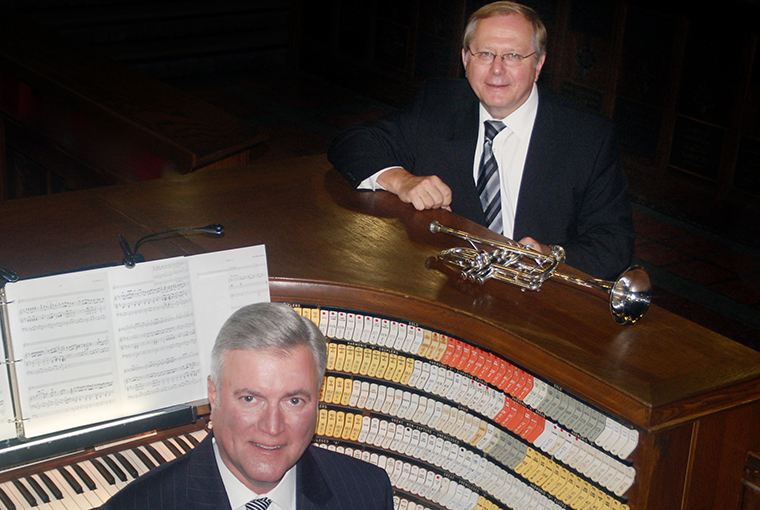 FREDERICK, Maryland—Trumpeter Chuck Seipp and organist Randall Sheets will play a concert at Hood College's Coffman Chapel on Nov. 3 at 4 p.m.
Seipp retired from the U.S. Army Band, "Pershing's Own," in 2012, culminating his 32-year career as concert band group leader. Sergeant Major Seipp performed at national, presidential and historical world events, at concerts and special events in Washington, D.C., and for funerals and wreath-laying ceremonies at the Tomb of The Unknown Soldier in Arlington National Cemetery. Sheets has been ceremonial organist for Arlington National Cemetery for more than 20 years, where he performs over 1,000 services a year in the historic Old Post Chapel and the Memorial Chapel. Their program will feature works by Handel, Bach, Mussorgsky, Gershwin, and others including Freddie Mercury's "Bohemian Rhapsody."
The concert is free and open to the public. For more information, contact Wayne L. Wold at woldw@hood.edu.
Hood College is an independent, liberal arts college, offering 28 bachelor's degrees, four pre-professional programs, 19 master's degrees programs, two doctorates and 10 post-baccalaureate certificates. Located in historic Frederick, near Washington, D.C., Baltimore and the I-270 technology corridor, Hood gives students access to countless internships and research opportunities.
Media Contact
Tommy Riggs
Assistant Director of Marketing and Communications