Graduate School Online Open House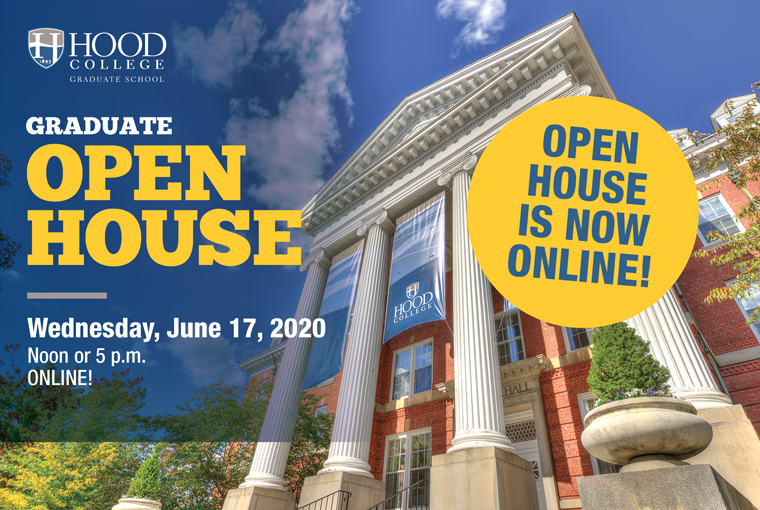 WHAT
Graduate School Online Open House
WHERE
Online: Register at hood.edu/gradevents.
WHEN
Wednesday, June 17: noon-1 p.m.; 5-6:30 p.m.
DETAILS
The Graduate School at Hood College is holding a virtual open house during which prospective students can learn how to maximize their career options with nearly 30 master's programs and certificates (including convenient online graduate degrees), plus two doctoral degrees.
Individuals holding a master's degree earn more money and experience fewer employment gaps than individuals with only a bachelor's degree. According to an economic research report from the Federal Reserve Bank of St. Louis, in April 2020, the unemployment rate among those with only a bachelor's degree was 9.4 percent. That number shrinks to 6.7 percent among those with a master's degree and 3.2 percent among those with a doctoral degree. This shows that having an advanced degree is crucial in a job market affected tragically by the coronavirus.
Faculty directors and curriculum experts will be on hand to field questions and answer questions in small-group breakout sessions. Staff will be on hand to answer questions about the application process and financing a graduate degree. This event will showcase a variety of programs in biotechnology, big data, business, counseling, IT, cybersecurity, education, humanities, ceramics and other fields.
MORE INFO
Tanith Fowler Corsi
fowlercorsi@hood.edu
301-696-3600
Hood College is an independent, liberal arts college, offering more than 25 bachelor's degrees, four pre-professional programs, 19 master's degrees programs, two doctorates and 10 post-baccalaureate certificates. Located in historic Frederick, near Washington, D.C., Baltimore and the I-270 technology corridor, Hood gives students access to countless internships and research opportunities.
Media Contact