Graduate Students Display Ceramic Artwork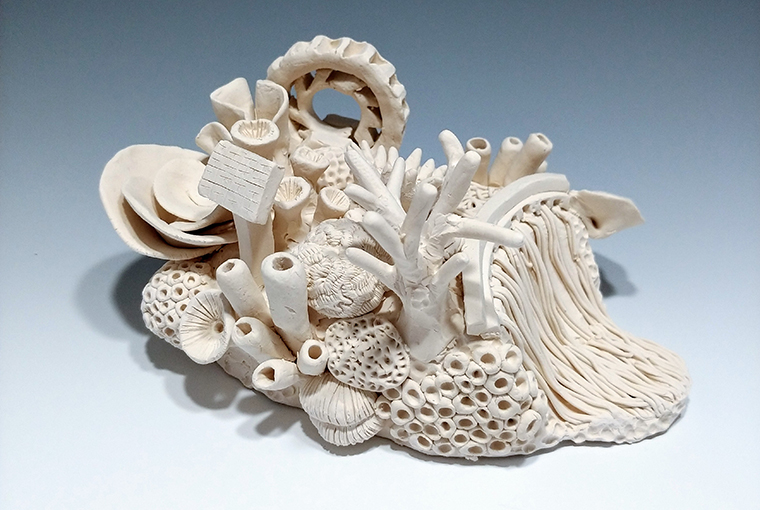 FREDERICK, Maryland—A variety of ceramic artwork by current Hood College graduate students will be on display April 10 through Aug. 14 in the Hodson and Whitaker galleries on Hood's campus.
Seven students in the Master of Fine Arts and the Master of Arts programs will exhibit the culmination of years of intense study in the art of crafting unique objects from clay and research into historical and contemporary movements in the ceramic arts.
Whitaker Gallery, Whitaker Campus Center:
April 10-25: Jafar Alhamar, "Islamic Style Botanical Surface Decorations"
May 22 to June 12: Chris Landers, "Ceramics by Chris Landers"
Hodson Gallery, Tatem Arts Center:
May 15 to June 5: Jason Laney, "Kiln-Side Conversations"; reception June 1, 5-7 p.m.
May 15 to June 5: Shanna Casey, "Rising Tides"; reception June 1, 5-7 p.m.
June 19 to July 10: Lillian Ding, "Life Does Not Have to be Perfect to be Joyful"; reception June 22, 5-7 p.m.
June 19 to July 10: Judy Goldberg-Strassler, "Shalom, Finding Peace Through Art"; reception June 22, 5-7 p.m.
July 24 to Aug. 14: Angela Gleeson, "wellness |ˈwelnis|"
The Hood College galleries are free and open to the public. Hours are daily 9 a.m. to 7 p.m. daily; closed on school and national/state holidays. Call 301-663-3131 for current access information. Contact Michelle Schulte at 301-696-3285 or schulte@hood.edu for exhibition or artist information.
Media Contact
Tommy Riggs
Assistant Director of Marketing and Communications
Art Exhibits
Events
Graduate School
Graduate Student