Hood Graduates 500 Students During 122nd Commencement Ceremony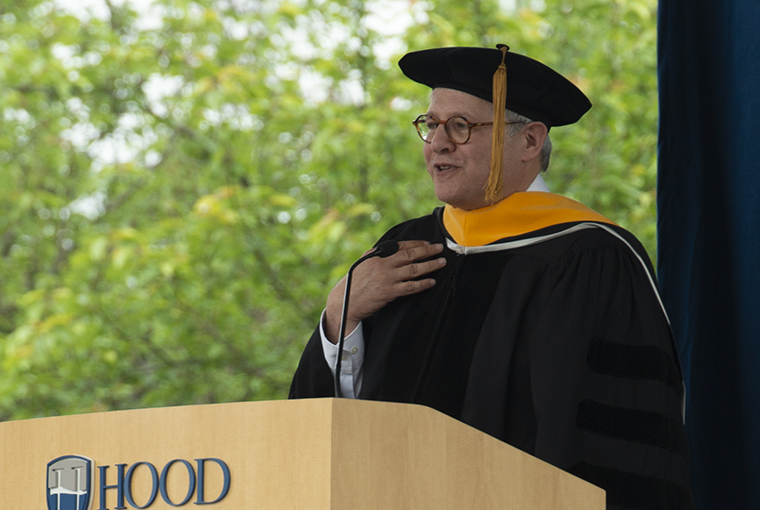 FREDERICK, Maryland—Approximately 500 total undergraduate and graduate students received their diplomas at Hood College's 122nd Commencement ceremony today.
Ethan Dmitrovsky, M.D., director of the Frederick National Laboratory for Cancer Research and president of Leidos Biomedical Research, delivered the Commencement address and received an honorary Doctor of Science.
Dr. Dmitrovsky spoke about his career, and while he had no grand plan, he had passions and was open to opportunity. He was curious, found several opportunities that he did not previously know existed and learned valuable lessons from many people.
"Unplanned experiences changed my life," he said. "What's important is to embrace the unexpected. Like me, you might graduate today without a grand plan, but the passions that led you here will carry you forward. And today, remember how far you have come, and imagine how far you will go."
In her remarks, Hood President Andrea E. Chapdelaine, Ph.D., reflected on her first four years as president and thanked the graduating students for her experiences.
"You have been active leaders on campus. You have demonstrated your many interests, passions and leadership. You have built a close-knit, engaged and vibrant community," she said. "You have filled my days with joy, and I will always cherish our shared memories. From me and my family, thank you."
President Chapdelaine then gave a charge to the graduating class.
"I ask you, as a Hood graduate, to always strive to live the four values of the College, crafted 100 years ago by your peers: Hope, Opportunity, Obligation and Democracy. If you do, our world will be a less contentious and fractured one because you, as a Hood alum, are in it living those values."
This year's undergraduate class hails from 14 states and three countries outside the U.S. Students in this class have studied abroad in five countries, and more than 120 of them completed internships. At least nine are veterans. The graduate class includes students from 10 states and seven countries outside the U.S. They earned bachelor's degrees from 109 different undergraduate institutions; 39 received their undergraduate degrees from Hood. At least five graduates are veterans.
Media Contact
Tommy Riggs
Assistant Director of Marketing and Communications