Learn How to Advance Your Career with the Graduate School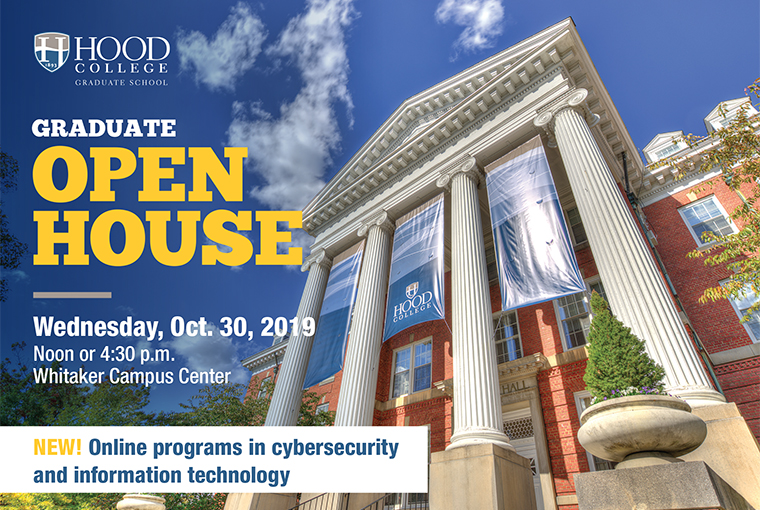 FREDERICK, Maryland—Individuals holding a master's degree earn more money and experience fewer employment gaps than individuals with only a bachelor's degree.
With this in mind, the Graduate School at Hood College is holding an open house Oct. 30 to show prospective students how it can help them go further in their lives, in their careers and in their communities. With nearly 30 graduate programs and certificates, plus two doctoral degrees, this event will showcase a variety of programs in biotechnology, big data, business, counseling, IT, cybersecurity, education, humanities, ceramics and other fields. Those interested in learning more about Hood's Graduate School should bring their résumés and transcripts to the Whitaker Campus Center Commons for the first session from noon to 1 p.m. or the second session from 4:30 to 6:30 p.m.
This event is an opportunity to talk with faculty and staff about professional aspirations, learn how Hood helps students achieve their goals, and apply for instant admission for select programs. In addition, tours are available for Hood's state-of-the-art technology and art facilities.
For more information and to RSVP, visit hood.edu/gradevents. Walk-ins are welcome.
Hood College is an independent, liberal arts college, offering 28 bachelor's degrees, four pre-professional programs, 19 master's degrees programs, two doctorates and 10 post-baccalaureate certificates. Located in historic Frederick, near Washington, D.C., Baltimore and the I-270 technology corridor, Hood gives students access to countless internships and research opportunities.
Media Contact
Tommy Riggs
Assistant Director of Marketing and Communications