Mary Bowron Memorial Exhibit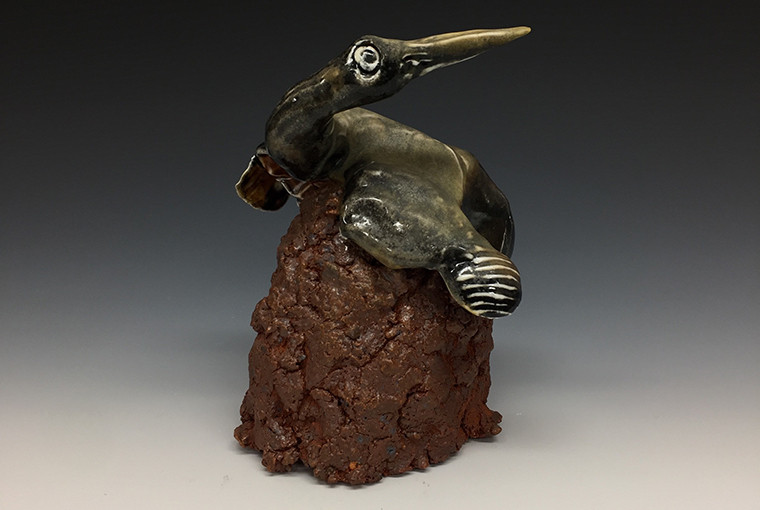 FREDERICK, Maryland—Hood College will host an exhibit June 22 through July 29 to celebrate the life and work of Mary Bowron (1933-2017). The show will be on display in the Whitaker Campus Center Gallery.
The "Mary Bowron: A Life of Expression" exhibit will include a mix of her work from several private collections as well as some pieces from the Hood collection, consisting of wood-fired ceramics, prints and watercolors.
Bowron was a local ceramic artist with a studio in Boyds, Maryland. She became familiar with Hood when the ceramics program began and was a regular attendee at workshops and exhibitions at Hood over the years. After she passed away in 2017, she left many of her ceramic works to Hood; they are now displayed in the Tatem Arts Center near the ceramics rooms.
Bowron's natural curiosity and inclination toward experimentation led her to any medium that might produce the effects she saw in her mind's eye. Nothing was off limits, whether clay, paint, paper, or bronze, copper-plate etching, wax, mono-prints, photography or even the natural environment. Her work frequently depicted humans and animals in both their most glorious form and their most vulnerable and wounded. She has typically depicted horses, birds, fish, plant life and the human form in this message.
The gallery will be open from 9 a.m. to 7 p.m. daily. The opening reception is scheduled for June 23 from 3 to 5 p.m. For more information, contact Jenna Gianni at gianni@hood.edu.
Media Contact
Tommy Riggs
Assistant Director of Marketing and Communications
Art & Archaeology
Art Exhibits
Events