Open House Showcases Hood College's Health and Counseling Services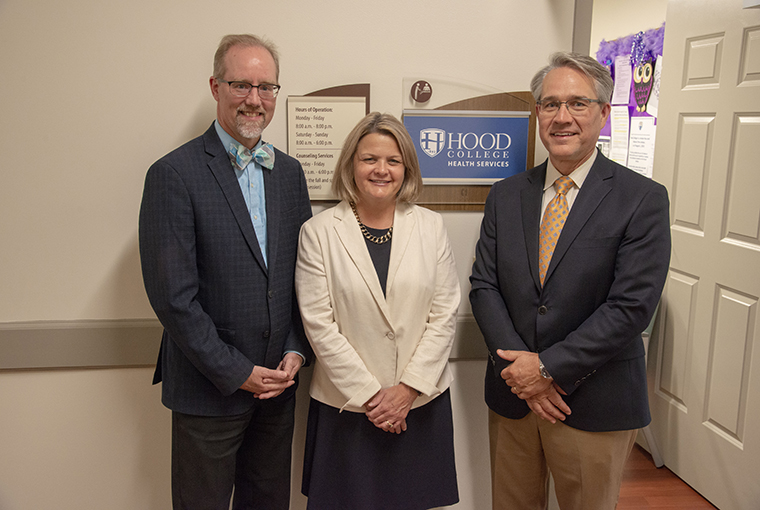 FREDERICK, Maryland—Hood College's Health and Counseling Services held an open house with Monocacy Health Partners today to showcase the medical services available to Hood students at Frederick Memorial Hospital's Tollhouse facility on West Seventh Street, just one block from Hood's campus.
Through the partnership with Frederick Regional Health System, which began in August 2018, Hood's health center is open seven days a week from 8 a.m. to 8 p.m. on weekdays and 6 p.m. on weekends while fall and spring semesters are in session. Most health services and all counseling services are free of charge to Hood students.
"We're thrilled with the success of this partnership that has increased health care access for our students," said Hood College President Andrea E. Chapdelaine. "This partnership is the result of a year-long study that included national benchmarking and consultation with the American College Health Association and our counseling faculty. It is the first of its kind and could serve as a model for future collaborations between colleges and health systems."
Hood's health services include primary care, urgent care, sports physicals, women's health, men's health, and health and wellness education. The partnership between the College and Frederick Regional Health System makes it possible to have urgent care services available to the public.
Hood's counseling services include anxiety; depression; relationship issues; ADD/ADHD; and referral to campus and community resources. The counseling services are staffed by licensed professional counselors as well as Hood College graduate students who are completing their counseling internships in the CACREP accredited counseling program. These interns provide an extra 40 hours per week of staffing, bolstering services for students and providing them with critical training opportunities.
"This is a natural partnership, with our two campuses sitting beside each other," said Thomas Kleinhanzl, president and CEO of Frederick Regional Health System, the parent company of Monocacy Health Partners. "Our mission is to positively impact the well-being of every individual in our community, and for a large portion of each year, these students are part of the community."
Hood College is an independent, liberal arts college, offering 28 bachelor's degrees, four pre-professional programs, 19 master's degrees programs, two doctorates and 10 post-baccalaureate certificates. Located in historic Frederick, near Washington, D.C., Baltimore and the I-270 technology corridor, Hood gives students access to countless internships and research opportunities.
Media Contact
Tommy Riggs
Assistant Director of Marketing and Communications
Events
Community Partnerships