Piano Trio to Play Noel K. Lester Concert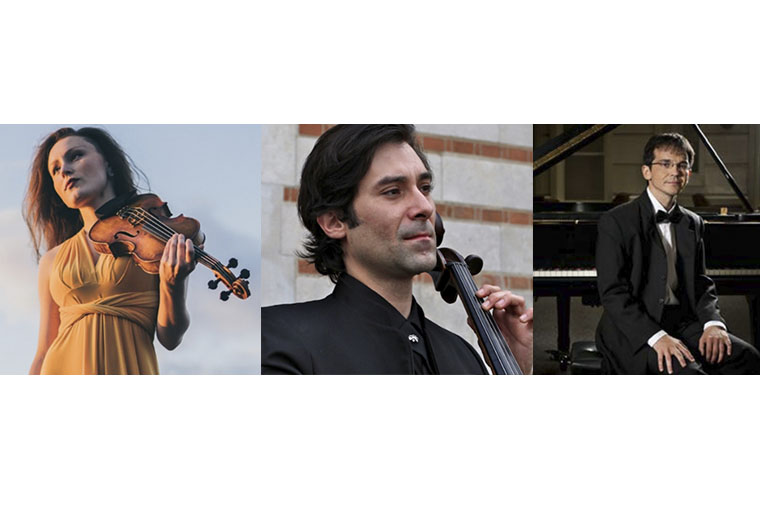 FREDERICK, Maryland—A piano trio will play at Hood College on June 27 as the second concert of the Noel K. Lester Summer Chamber Music Festival. The concert is scheduled for 7:30 p.m. in Brodbeck Music Hall.
The trio includes the Baltimore Symphony Orchestra's Audrey Wright on violin and Lachezar Kostov on cello, and they will be joined by pianist Viktor Valkov from the University of Utah. The trio will perform works by Haydn, Beethoven and Brahms.
Wright joined the BSO in 2016 and became associate concertmaster in 2018. A versatile performer in solo, chamber music and orchestral realms, she has previously held positions with the Excelsa Quartet (2014-16) and the New World Symphony (2013-14).
Kostov is assistant principal cellist with the BSO and has appeared as a soloist and chamber musician all over the world. Prior to the BSO, he was a tenured member of the San Antonio Symphony and performed regularly with the Houston Symphony.
Valkov is an assistant professor of piano at the University of Utah. He has performed with the Louisiana Philharmonic Orchestra, the Baton Rouge Symphony Orchestra, the Acadiana Symphony Orchestra and the West Virginia Symphony Orchestra. He won the 2015 Astra Artists National Auditions and was the gold medalist at the 2012 New Orleans International Piano Competition.
Now in its 35th year, the Noel K. Lester Summer Chamber Music Festival is comprised of five concerts featuring a variety of performers and instruments. The three other concerts scheduled are a Baroque ensemble of harpsichord, flute, oboe, violin and bassoon on July 11; an Oscar Hammerstein celebration on July 18; and a violin, guitar and double bass group performing the Phyllis and Ardine Gorden Concert on July 25.
All concerts in this festival are free and open to the public. For more information, visit hood.edu/musicfestival or contact Wayne L. Wold at 301-696-3782 or woldw@hood.edu.
Media Contact