Street Photography Exhibit by Tim Jacobsen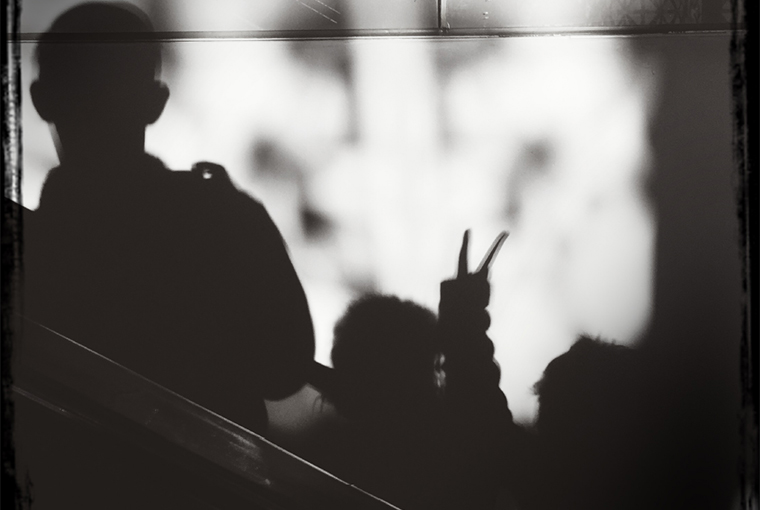 FREDERICK, Maryland—An exhibit of street photography by freelance multimedia journalist and Hood College multimedia instructor Tim Jacobsen will be on display at Hood's Hodson Gallery in the Tatem Arts Center from Oct. 25 through Nov. 10.
Jacobsen's exhibit, "Everyday People," depicts people in genuine, unscripted life. Street photography requires the photographer to observe situations without the subjects of those situations knowing that they are being observed or photographed for the most genuine feel.
Jacobsen has drawn inspiration from well-known street photographers like Henri Cartier-Bresson, Joel Meyerowitz, Robert Frank and the lesser known works of Vivian Maier. Using waist-level viewfinders, early street photographers could easily document their subjects undetected because the camera was never brought up to their eye when taking a photo. Jacobsen uses the smartphone app Hipstamatic to simulate an original analog camera.
His first camera, given to him when he was 12, was a Kodak Brownie Hawkeye. It was a little brown box of a camera with a waist level viewfinder and nothing more than a shutter button and a film winder. The Hipstamatic app brings him back to those early days spent wandering around taking images of his community, on vacation and at local events.
A native of the Chicago suburbs, Jacobsen graduated with a bachelor's degree in mass communications with an emphasis in photojournalism from Winona State University. He teaches visual media at Hood College and is the coordinator for the Hood College Broadcast Studio. He has more than 30 years of photography and multimedia experience and has been teaching photography, photojournalism and multimedia journalism on the collegiate level since 2005. Frederick has been his home since 1989.
This gallery is free and open to the public. For more information, contact Elizabeth McFadden at 301-696-3285 or mcfadden@hood.edu.
Hood College is an independent, liberal arts college, offering 28 bachelor's degrees, four pre-professional programs, 19 master's degrees programs, two doctorates and 10 post-baccalaureate certificates. Located in historic Frederick, near Washington, D.C., Baltimore and the I-270 technology corridor, Hood gives students access to countless internships and research opportunities.
Media Contact