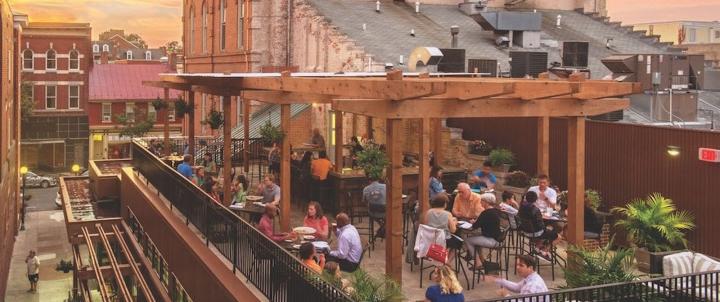 Reasons to Love our Location
1. You'll get amazing internships.
Internships are an important part of your college experience and often lead to a job offer after graduation. Because of our proximity to Washington, D.C. and Baltimore, as well as all that's going on in and around Frederick, there is a long list of employment opportunities. 
2. You'll get hired.
Those internships we just bragged about? Guess what—they could lead to full-time employment. We have alumni working at places like Frederick County Public Schools, Frederick Memorial Hospital and Leidos.
3. You can take day trips to Baltimore.
There's a buzz about Baltimore. With the world-famous Inner Harbor, renowned museums and galleries, restaurants, live music and hip, quirky neighborhoods, they don't call it Charm City for nothing. Sports fan? Don't forget the Orioles, Ravens and Blast!
4. You can take day trips to Washington, D.C.
It's our nation's capital and it has the Stanley Cup-winning Capitals! There are also monuments and memorials, free museums, eclectic neighborhoods, Broadway-caliber theater, live music and award-winning restaurants. Plus, NFL football and the Washington Nationals!
5. You can stay right in Frederick!
Frederick has it all—Civil War history, antique shops, great restaurants, stunning parks and covered bridges, performing arts and culture, unique shopping. It's why we're both hip and historic!
6. You can hike the Appalachian Trail.
It's the longest hiking-only footpath in the world, spanning 14 states, including a 4-mile span in Maryland. You'll have access to it just 30 minutes from campus.
7. You can have coffee on the creek.
Carroll Creek Park, within walking distance of campus, is a world-class urban park located within Downtown Frederick. There are restaurants, live music, public art and a scenic pedestrian path.
8. You can take classes outside.
Our outdoor classroom, under the shade of trees, features circular seating and a great opportunity for learning and fresh air. Not to mention a spectacular view of the academic quad.
9. You can do research on the Bay.
Or on nearby Culler Lake. If you're passionate about environmental science, chemistry or biology, our location gives you the ideal environment to get to your hands wet and make some striking discoveries, all while making a difference!
Are you ready to say Hello?
Choose a Pathway
Information will vary based on program level. Select a path to find the information you're looking for!