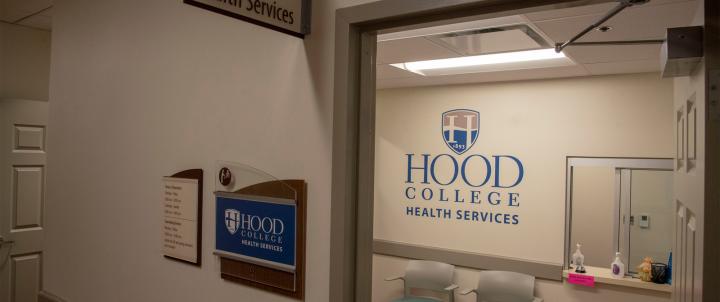 Hood works cooperatively and strategically with its many partners to augment student learning and enhance the quality of life in the region and beyond. Students work with our career center staff to secure volunteer positions, internships and permanent employment with our more than 600 partner organizations in government, private and nonprofit industries throughout the region.

Our faculty help students pursue their passions through real-world experiences that complement classroom instruction. Students work side-by-side with scientists and professors conducting research, intern at local professional development schools and study abroad to gain marketable skills and professional experience.
As a pillar of our strategic plan, we see partnerships as a way to "expand applied learning opportunities for students, and enrich and serve Hood College and the Frederick community."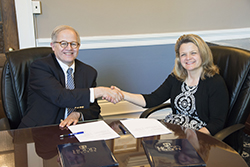 Hood College and the Frederick National Laboratory for Cancer Research partnered in 2018 to expand research and training opportunities for undergraduate and graduate students at the Frederick National Laboratory and provide professional development programs for Hood faculty and national laboratory staff. A three-year Memorandum of Understanding was signed by Ethan Dmitrovsky, M.D., laboratory director of the Frederick National Laboratory, and Hood College President Andrea Chapdelaine (left).
The student research and training program will enrich the College's commitment to applied learning to facilitate Hood graduates' employment in the biotechnology and research industry. Frederick National Laboratory staff will have the opportunity to teach at Hood, while Hood faculty will engage in collaborative research at the Frederick National Laboratory.
In 2019, the two institutions cohosted an annual scientific symposium in the tradition of the landmark Oncogene Meeting, a national fixture in Frederick for more than 20 years. The Oncogene Meeting, held from 1985 to 2004, was a national focal point for scientists following the discovery that genetic mutations can cause cancer. The meeting promulgated research collaborations, innovative ideas and new areas of cancer research.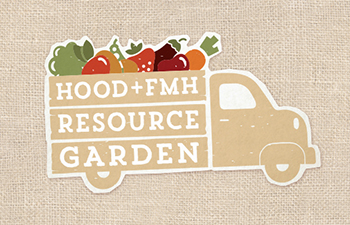 In 2017, Hood College and Frederick Memorial Hospital partnered to create a community resource garden, growing produce for local Frederick families, veterans and senior citizens in need. 
In its first season, the garden yielded more than 1,000 pounds of produce, which was donated to organizations including the Frederick Rescue Mission, the Frederick Food Bank, the Frederick Senior Center and the Heartly House. The garden plots are tended entirely by volunteers from Hood and FMH.
In summer 2018, there were 16 small sub-plots in the garden, equally split between Hood and FMH, and there will be a pollinator strip of native flowers. Also, the Monarch Alliance has donated a generous grant and several dozen plants for four new monarch butterfly habitats to be installed at the launch.
The Frederick Food Security Network is a community gardening program from the Hood College Center for Coastal and Watershed Studies. We are establishing a network of community gardens in Frederick, in order to:
Improve food security for residents of local food deserts
Reduce local water pollution by diverting rooftop runoff for use as irrigation
Promote better eating habits and environmental stewardship in the Frederick community
For more information or to get involved, contact Connie Ray at ray@hood.edu.
In September 2017, the Chamber of Commerce welcomed Hood College back to its roots in Downtown Frederick, with space in the County's Center for Innovation and Business Growth. 
The Martha E. Church Center for Community and Civic Engagement, supported by a gift in honor of president emerita Martha Church at the time of her retirement, serves as the face of Hood in Frederick, facilitating connections with government, businesses, nonprofits and other community organizations.
Hood's relationship with Fort Detrick has many threads, and is constantly evolving.
The first master's degree in biomedical science offered in Maryland was developed by Hood biologists and Fort Detrick scientists, an example of the symbiotic relationship of two organizations that have very different purposes but share many of the same intellectual interests and values.
In many ways, Fort Detrick has served as an extension of the campus and our programs in the sciences.
Our partnership with Frederick Health better meets the health care needs of our undergraduate and graduate students, expands our existing relationship with FH as a practicum site for our students pursuing a master's degree in clinical counseling, and to facilitate access to urgent care and mental health services for our own employees, at a minimal fee generally covered by insurance, and area residents.
This partnership is the result of a year-long study exploring alternative models of delivery for health and counseling services that included national benchmarking and consultation with the American College Health Association, as well as our own faculty who oversee the counseling program.
Starting with the 2018-19 academic year, FH provides all health services for our community at Hood College Health Services at FMH Tollhouse, 501 West 7th Street. 
Since Hood's founding in 1893, the local business community has partnered with the College, providing leadership and financial support.
Businesses, corporations and foundations such as The Hodson Trust, the Whitaker Foundation, the Delaplaine Foundation, Constellation Energy Group, the Nora Roberts Foundation, General Electric Co., Invitrogen and the American Chestnut Foundation have provided funds for academics, athletics, library resources and scholarships.
The area's first technology business incubator, initially located on campus, and Hood's strong alliance with the National Cancer Institute research facility at nearby Fort Detrick, have inspired new interest in the College from the business, government and nonprofit sectors.
Since 1936, The Hodson Trust and the Hodson Scholarship Foundation have provided grants to the College totaling nearly $65 million.
Their financial support has been used for student scholarships, endowmented professorships, student and faculty research grants and campus infrastructure and buildings, including the library, student center, residence halls, athletic facilities and total funding for the $20 million state-of-the-art Hodson Science and Technology Center, completed in 2002.
In 2017, The Hodson Trust was awarded The President's Medal for Opportunity.
In an effort to support the growing need for trained professionals in the cybersecurity field, both regionally and nationally, Frederick Community College, Mount St. Mary's University and Hood College have collaborated to provide a single, unified degree pathway into this field.
The presidents of the three institutions signed the Memorandum of Understanding, putting the needs of the student first to ensure seamless transition for three degrees on one career path. This articulation agreement among these regional cybersecurity powerhouses is the first of its kind in the U.S.
The cybersecurity associate degree at FCC will offer courses that transfer to the Mount toward a bachelor's degree in cybersecurity. In turn, the cybersecurity curriculum at the Mount will transfer toward a master's degree in cybersecurity at Hood College. The provosts and cybersecurity faculty leads at each school developed the agreement to give students a contemporary, rigorous and relevant education in the cybersecurity field that fully aligns with National Security Agency accreditation standards.
Are you ready to say Hello?
Choose a Pathway
Information will vary based on program level. Select a path to find the information you're looking for!