Hood College Celebrates Holi and the Nepali New Year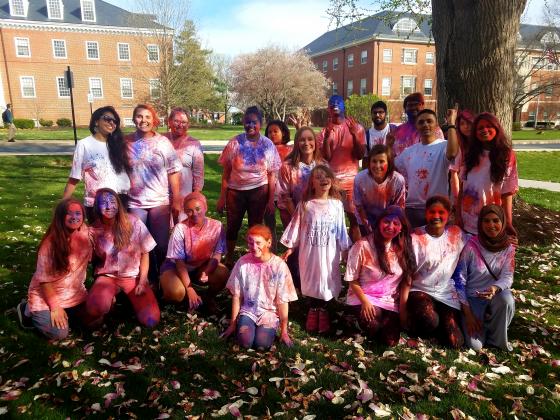 On Wednesday, April 10, 2019, Hood College students and staff from various cultures gathered to celebrate Holi and the Nepali New Year 2076.
A joyful and colorful festival of spring
Holi is one of the most revered and colorful festivals in India and Nepal, and Hood's celebration included Nepalese and Indian singing and dancing, as well as the traditional throwing of chalk powder. The event was organized by Hood College's international student advisor, Ted O, and the Graduate School, and hosted by Indian MIS graduate student, Arundhati Naikavde. Participants enjoyed Indian and Nepali cuisines including samosa, mango lassi, Gulab jamun, and Nepali momo.
Holi is the festival of love and colors. It is a popular ancient Hindu festival originating in the Indian subcontinent. It is celebrated predominantly in India and Nepal, but has also spread to other areas of Asia and parts of the Western world through the diaspora from the Indian subcontinent. Holi is popularly known as the Indian "festival of spring", the "festival of colors", or the "festival of love". The festival symbolizes the arrival of spring, the end of winter, the blossoming of love, and a festive day to play and laugh. The festival also celebrates the beginning of a good spring harvest season. The Nepali New Year 2076, or the first day of the Bikram Sambat calendar, is also celebrated as a new beginning.
The Dean of the Graduate School, April Boulton, Ph.D., opened the event with an enthusiastic address showing her support for international cultural celebrations. The chalk throwing at the end of the celebration turned out to be exciting and fun entertainment with everyone covered in color.
Inspired to #GOFURTHER and be a part of Hood's diverse learning community? Learn about Hood College's graduate programs and international student services by clicking here.
Are you ready to say Hello?
Choose a Pathway
Information will vary based on program level. Select a path to find the information you're looking for!