Victoria Aghamalian '23 | Chair of the Board Scholar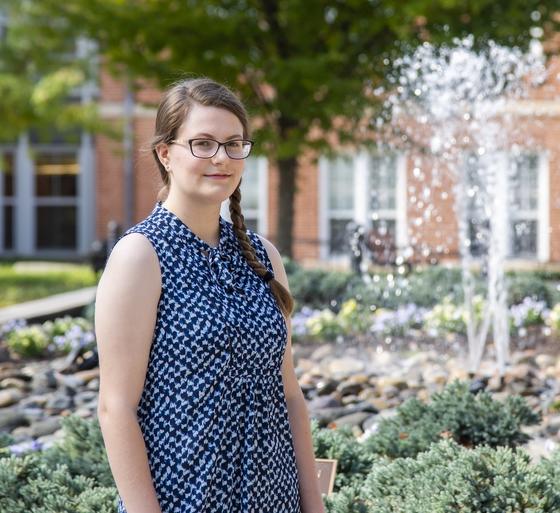 Victoria Aghamalian '23 is a recipient of the prestigious Chair of the Board Scholarship. She also served as the 2023 senior class president. As she prepares for graduation, Aghamalian reflects on her time at Hood and discusses her plans for the future.
Q&A
Program
English (B.A.)
Economics (B.A.)
Department
The George B. Delaplaine Jr. School of Business
English & Communication Arts
Why did you decide to attend Hood College and how did you become interested in your major?
The moment I stepped foot on Hood College's beautiful campus, I knew this was the right institution for me. The admission staff were so nice and were genuinely interested in me and did whatever they could to answer any questions I had. My tour guide was phenomenal and really showcased the school in a wonderful light. I was even given the opportunity to meet some professors during Accepted Students' Day and could feel the warmth radiating from everyone I met. In addition to the staff's welcoming demeanor, I chose Hood because of the small class sizes, as it was very important for me to have personal connections with each of my professors.
My majors are English and economics. I had decided that I wanted to pursue a degree in both disciplines when I was in twelfth grade. I have wanted to become an attorney since I was 10 years old, so I chose English to further enhance my writing abilities. I wanted to major in economics because I thought it would be interesting and would help shape my perspective on the world. When I came to Hood College and took my first economics course, it was quite different from any other class I had taken before. I found it intriguing and decided to stick with it, a decision I am happy about, as all the economics professors are personable and willing to assist their students in any way they can.
How has receiving the Chair of Board Scholarship benefited you?
Receiving the Chair of the Board Scholarship has greatly benefited me. Firstly, it has made a college education more obtainable. The generous gift of donors has substantially eased the financial burden associated with paying for my tuition, books, room and board, etc. Without this scholarship, it is likely that I would not have been able to attend Hood.
Beyond the monetary value of this scholarship, it also provides recipients with opportunities that other students do not receive. For instance, during my freshman year, I had been privileged to go with President Chapdelaine and other students to Annapolis to see delegates and convey to them the importance their contributions made on Hood College's campus. Furthermore, this year I was able to go with President Chapdelaine to the dinner celebrating George B. Delaplaine's generosity to those in the Frederick area. Meeting him was a privilege, especially because I am an economics major and his donations to the College made it possible for the business school to exist.
Additionally, the stipend that comes with the scholarship has enabled me to further my education outside the classroom. During the summer, I had an internship at the Montgomery County State's Attorney's Office in Rockville and was able to use the stipend to pay for my travel expenses and professional clothing. This summer, I will be using the rest of my stipend to participate in the Lex Fellowship, which is a summer program for those interested in becoming attorneys. I will be traveling to Spain and will work in different law offices to gain hands-on experience.
What has been a challenge you faced during your time at Hood and how did you overcome this obstacle?
My biggest challenge during my time at Hood was during sophomore year, when I had taken all my classes on Zoom. I missed seeing my professors and friends and it was difficult to learn in an online setting, especially when the professor was teaching in the classroom. I found it difficult to retain the information that was being taught. To overcome this, I attended many of my professors' Zoom office hours on a regular basis, and they were more than happy to help me. Thankfully, at the end of the semester, I had earned a 4.0 despite the challenges I had faced in the beginning.
What is your proudest achievement during your time at Hood?
My proudest achievement during my time at Hood actually happened last week during theHonors Convocation. I was awarded two Student Life Awards, one of which was The Mary Margaret Rose Award, which is given to a student who acts as an "exemplary ambassador of Hood." I was honored to receive this award, as I have always ensured that I was immensely involved in different campus organizations and activities. I am currently the Senior Class President and am one of the former presidents of the Alpha Lambda Delta National Honor Society and the Campus Activities Board (CAB). I have put a lot of time and effort into managing these organizations over the years and am also a member of seven honor societies, a member of the Academic Judicial Council, Student Government Association and Least Squares Math Club, as well as an economics TA and a Blazer Ambassador, and I was even a math tutor and helped the business program with their ACBSP reaccreditation. Thus, I was happy to see that people thought I had made a difference on campus and wanted me to recognize how much my efforts were appreciated.
What are your plans for after graduation?
After I graduate, I am going to be attending law school in the fall. I am still waiting to hear from some universities before I make my final decision as to where I will be attending. I am interested in learning more about civil law, constitutional law, labor and employment law, contracts, etc. I am open-minded about what my concentration will be and will have to decide that once I begin taking my classes so I can see where my skills will be best utilized. Regardless of the area I specialize in, I would like to give back to the community as much as possible.
Do you have any advice to offer incoming Hood students?
One of my suggestions for incoming Hood students is definitely for them to take the time to get to know their professors and to attend office hours as much as possible. Doing so will make them enjoy their classes more, as they will have a personal connection with the instructor. Furthermore, attending office hours will enable them to better understand the subject matter and will show their professors that they truly care about doing well in the class. The professors here want the best for their students and enjoy helping them look more competitive in the job market and are always a good resource to turn to for letters of recommendation.
Another suggestion that I have for incoming students is for them to be involved on campus in as many ways as possible. Joining clubs is a great way to do this and will provide them with an opportunity to further connect with a greater number of people. They will be able to interact with others who have the same interests and will even be able to potentially obtain leadership positions.
Are you ready to say Hello?
Choose a Pathway
Information will vary based on program level. Select a path to find the information you're looking for!