Hood To Add Women's Ice Hockey to Athletic Programs
Search for head coach underway, inaugural season to take place Winter 2024-25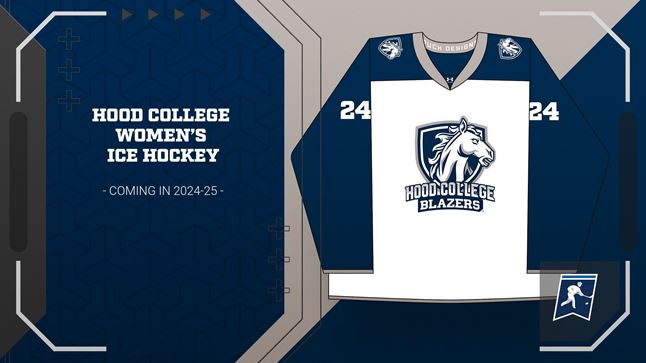 Hood College is proud to announce that Women's ice hockey will be the College's 26th varsity sport, beginning play in the winter of 2024-25.

"We are excited to add women's ice hockey to our athletic program at Hood College," said Hood President Andrea E. Chapdelaine, Ph.D. "As a fast-growing sport in Maryland and other regions, women's ice hockey will expand our athletic recruitment and the diversity of athletic experiences we offer our students. It is also an excellent addition given our history as a women's college. In fact, Hood was one of the first colleges in the U.S. to offer field hockey for women."

Hood will conduct a search for a head coach in the fall of 2022, who will recruit the Blazers' inaugural team for the 2024-25 season.  

Women's ice hockey is the latest in a list of several sports added to Hood's offerings in recent years. Men's volleyball will compete for the first time in the spring of 2023. Women's golf was elevated to varsity status in the fall of 2016 and esports ascended to varsity status in 2021.  

"As we continue to research new opportunities for women to compete in athletics, ice hockey fits well within our parameters for potential sports," said Athletic Director Susan Kolb, Ph.D. "We have an excellent facility at Skate Frederick to offer our players as their home ice. We are, regionally, close to many club and high school level women's ice hockey programs for recruiting. We will start searching for our coach this fall.
I am thrilled to see women's ice hockey come to Hood College and will look forward to our first season."

Women's ice hockey will join the Blazers' other NCAA Division III programs in the Middle Atlantic Conference. Other current MAC institutions competing in women's ice hockey include Alvernia University, Arcadia University, King's College, Lebanon Valley College, Stevenson University and Wilkes University.  
 
"Gender equity is a fundamental principle across the MAC, so I'm delighted that Hood will be sponsoring women's ice hockey," said MAC Executive Director Megan Morrison. "It underscores Hood's commitment to gender equity and adds to the growing number of ice hockey programs sponsored by MAC institutions."

In all, 67 institutions competed in Division III women's ice hockey in 2021, based on the most recent NCAA Sports Sponsorship and Participation Rate Report. Sponsorship of women's ice hockey at the Division III level has grown by a third since 2013. The number of student-athletes on Division III rosters also increased by 33 percent over the same time period, growing from just over 1,100 student-athletes to over 1,500.
Media Contact