Hood College Announces Successful Conclusion of $74.6 Million Fundraising Campaign
'Forging the Future' campaign exceeded original $50M goal to fund new academic schools, programs; increase scholarships; ensure every student graduates world- and career-ready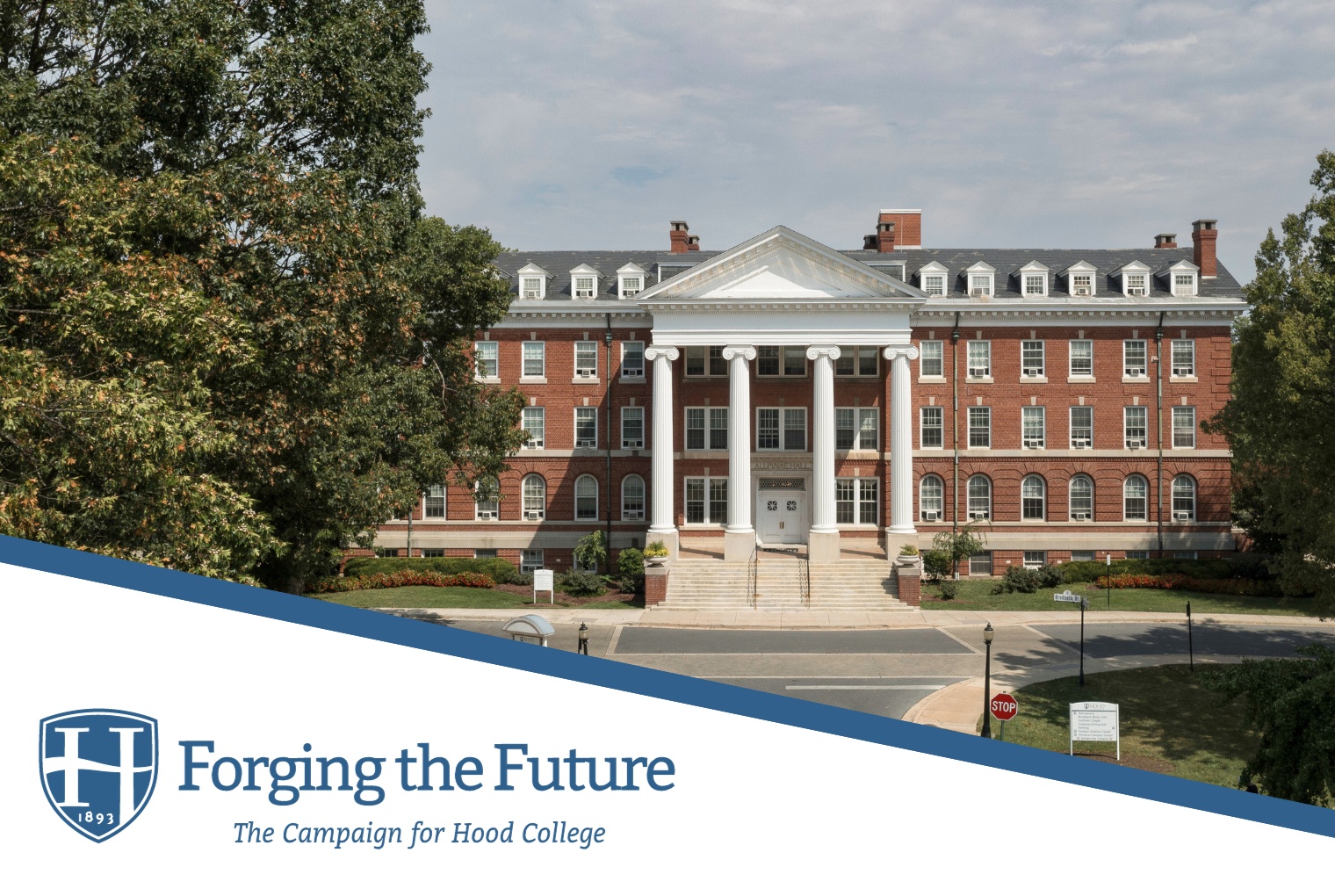 Hood College is proud to announce the completion of "Forging the Future: The Campaign for Hood College," with $74.6 million raised since its launch in September 2017. Surpassing the initial $50 million goal, Forging the Future was the largest and most successful philanthropic effort in the College's 130-year history.
Increasing student scholarships was a key campaign priority. The College hoped to raise $9 million—instead, donors contributed $25 million toward this endeavor, establishing 43 new named scholarships. A further $2.9 million was contributed to support high-impact student learning, with 18 new funds created for internships, study abroad, on-site research and more.
This investment in high-impact learning affirms the College's commitment to providing every student with a life-changing experiential learning opportunity. For instance, Julie Karlsson '23, a pre-medical studies biology major, studied the effects of climate change on lobster larvae at the Bigelow Laboratory for Ocean Sciences with Hood faculty, later publishing and presenting her findings at a national undergraduate research symposium.
In addition, 13 new or expanded academic majors were added to the College's offerings, and two new schools were established. The George B. Delaplaine Jr. School of Business added a finance major and launched the The Michael S., P'09 & Marlene B. Grossnickle Young '76, H'14, P'09 Data Driven Frederick Center, an analytics center that provides data to regional businesses, nonprofits and other organizations to inform policy development and decision-making to benefit the Frederick community.

The Ruth Whitaker Holmes School of Behavioral and Health Sciences houses some of Hood's fastest-growing programs, including nursing, counseling, psychology, sociology and social work, while adding new programs in public health and nutrition science. Via partnerships with Frederick Health, the new school allows students to gain hands-on experience in hospitals, clinics and primary care practices throughout Frederick County, addressing the high demand for healthcare professionals.
The campaign also prioritized the renovation of key spaces on Hood's campus, with the Beneficial-Hodson Library and Learning Commons transforming into a modernized learning hub following a $7.2 million renovation, complete with study pods, state-of-the-art technology and centralized student support services.
Further, $9.5 million was contributed to renovate and expand the Hodson Science and Technology Center, which will include a new Biomedical Research and Training Center. The proposed expansion will foster growth in Hood's STEM programs and bolster workforce development in biomanufacturing, cybersecurity and more.
The historic campaign was supported by 4,828 donors, a broad coalition made up of alumni and families, trustees, faculty and staff, foundations and government and corporate partners. Notably, 43% of Hood's staff and faculty members gave to the campaign, far surpassing the national average rate of 10%. Hood's donors' will have a long-lasting impact for generations of students to come by providing them with the resources and tools to thrive inside and outside the classroom.
"Forging the Future has built on our strong foundation and enables Hood to meet the everchanging needs of our students," said Andrea E. Chapdelaine, Ph.D., president of Hood College. "When we began this campaign, our first in more than 25 years, we could only have dreamt of the groundbreaking success we have now realized. For that, on behalf of our students, we thank every member of the Hood community and beyond who helped us achieve our ambitious goals."
"Forging the Future: The Campaign for Hood College"
Campaign Priorities:
Increase student scholarships.

Renovate and expand the Hodson Science and Technology Center.

Establish The Ruth Whitaker Holmes School of Behavioral and Health Sciences.

Grow the Hood Fund.

Transform the Beneficial-Hodson Library into a dynamic learning commons.

Expand and name The George B. Delaplaine Jr. School of Business.

Ensure high-impact student learning.

Support faculty in teaching and research.
Media Contact