Hood College's 123rd and 124th Commencement Ceremonies to be held Saturday
Information on ceremony times, speakers and graduating classes released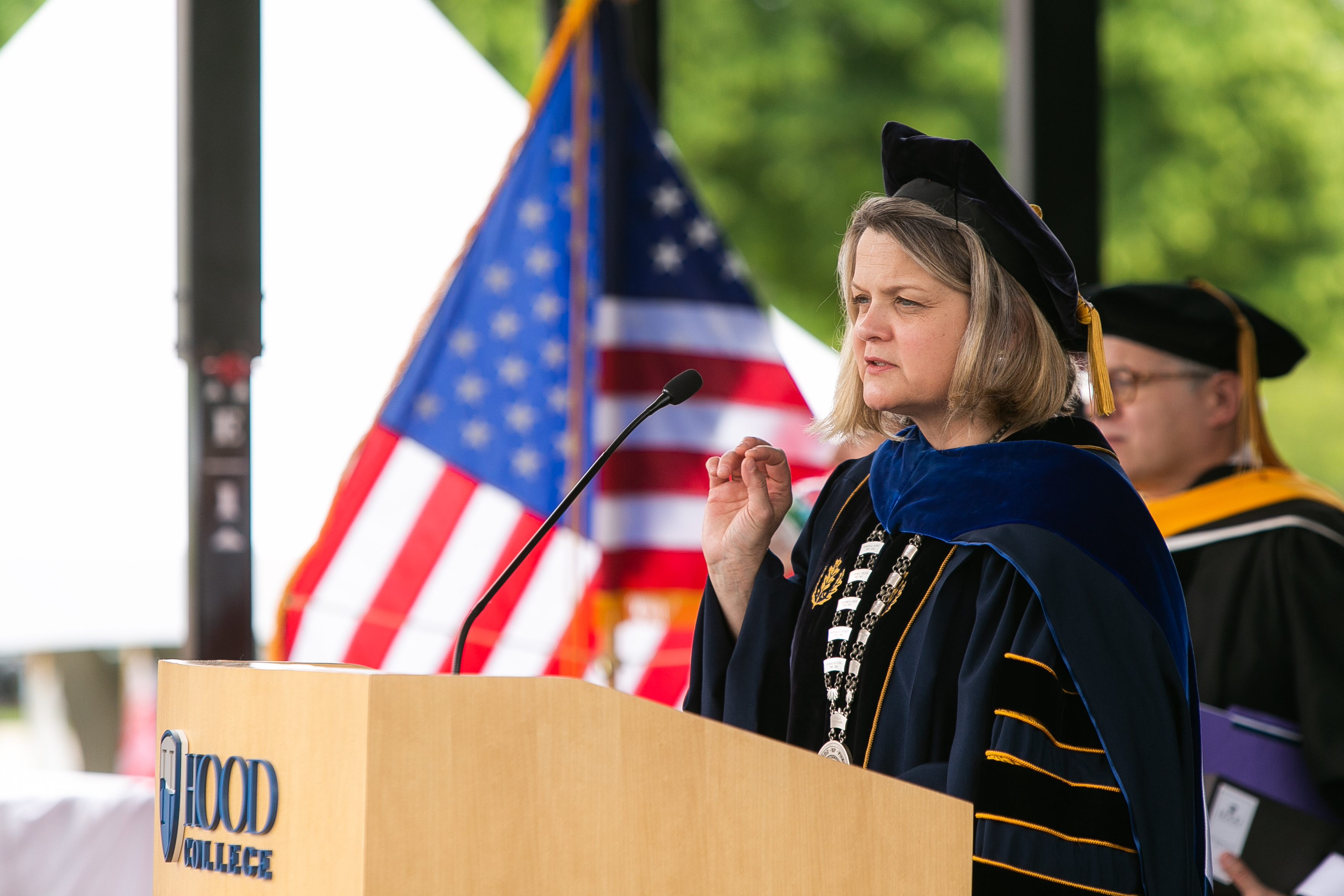 FREDERICK, Maryland—Hood College's 123rd and 124th Commencement ceremonies will be held on the College's Thomas Athletic Field this Saturday, May 22. In total, three ceremonies will take place, honoring the class of 2020 (both undergraduate and graduate students) at 9 a.m., 2021 undergraduates at 1 p.m. and 2021 graduate students at 5 p.m.
Commencement celebrations begin on Friday at 7 p.m. with an abbreviated, in-person Baccalaureate service on the Thomas Athletic Field limited to only graduating students.

Olivia G. White, Ph.D., former vice president for student life and dean of students, will deliver the Commencement address for the class of 2020. White spent more than 28 years at Hood, joining the College in 1992 and being appointed as VP for student life in 1994. In her time at Hood, she created a student-centric environment that promotes academic achievement and a successful college experience. In her role, White oversaw departments that serve students' everyday lives, including residence life, student engagement, commuter life, judicial affairs, health and wellness, orientation, diversity and inclusion, campus safety and spiritual life. White announced her retirement from Hood in February of 2020.
The Reverend Margaret "Peggy" Muncie '70 will be the speaker for class of 2021 ceremony. Muncie graduated from Hood in 1970 and was part of the first class of women to attend General Theological Seminary in New York City and to be ordained by the Episcopal Church. The majority of Muncie's ministry has been spent in chaplaincy, first serving as the chaplain at Vassar College. She later served as chaplain in long-term care in Greenwich, CT and Cincinnati, Ohio. When she returned to New York with her family, she was the director of pastoral care and education at St. Luke's Roosevelt Hospital Center. A loyal supporter of Hood, she was awarded a Distinguished Alumni Award in 2015. Muncie will also be presented with an honorary Doctor of Humane Letters during the ceremony.
The undergraduate class of 2020 includes students from eight states outside and two countries outside of the United States. 12 of the 223 total graduating students completed semesters abroad in seven different countries including Spain, France and Scotland. The graduate class, which totals 232 members, features international students from India, Nigeria and Saudi Arabia, as well as students from 8 different states and Washington D.C. 38 students will be receiving their second degree from Hood.
The 250-student undergraduate class of 2021 hails from 18 states and five countries outside the U.S. 15 students in this class have studied abroad in 10 different countries, as well as four "Semester at Sea" participants. The graduate class numbers 214 students from 12 states and four countries outside the U.S. 39 Hood alumni and 11 students with Legacy status, meaning family members also hold a degree from Hood, will be graduating.
For frequently updated information, visit hood.edu/commencement.
Media Contact
Undergraduate student
Graduate Student