Hood Receives Accolades from US News, Several Other Publications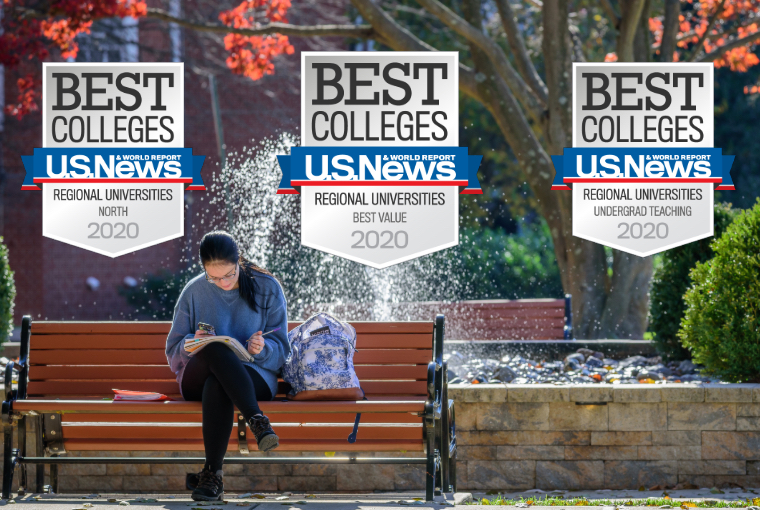 FREDERICK, Maryland—Hood College received accolades from U.S. News & World Report, Forbes, the Princeton Review, Money Magazine, the Wall Street Journal/Times Higher Education, the Washington Monthly College Guide, College Consensus and EDsmart.
U.S. News & World Report has ranked Hood College in the top 50 of four major lists in the north region: no. 17 for Best Value Schools, no. 21 for Best Undergraduate Teaching, no. 47 for Campus Ethnic Diversity, and no. 48 for Best Regional Universities.
Forbes ranked Hood as an America's Top College, a Best Private College and a Best College in the Northeast. Hood also ranked on the Princeton Review's Best Northeastern Colleges, Money Magazine's Best Colleges for Your Money, and the Wall Street Journal/Times Higher Education's Best National Institutions. The Washington Monthly College Guide ranked Hood as a Best Bang for Your Buck College in the Northeast and a Best Master's University. College Consensus named Hood a Best Regional University in the North, and EDsmart ranked Hood on its list for Best Colleges and Universities in Maryland.
"Being recognized on these lists is always exciting because it reflects our commitment to providing our students with the best possible educational experience and to the affordability of a Hood degree," said Hood President Andrea E. Chapdelaine, Ph.D. "The credit goes to all of the faculty and staff who work diligently every day to make Hood a great place to learn for our students."
In the past year, Hood has received CACREP accreditation for its counseling master's program and CCNE accreditation for its nursing baccalaureate program. Hood has also become a member of the Chesapeake Watershed Cooperative Ecosystems Unit, which enables faculty and students to engage in research with organizations such as the National Park Service, the Fish and Wildlife Service, the National Oceanic and Atmospheric Administration, the U.S. Forest Service, the Department of Defense and others.
Hood has also partnered with Google for an Applied Computing Series that will teach the fundamentals of computer science to those who might not otherwise consider a technology career.
Also in technology, the National CyberWatch Center awarded Hood for the cybersecurity pipeline that leads students to three cyber degrees at three schools, culminating in a Hood master's degree.
The Graduate School's doctoral candidates who defended their dissertations over the summer all passed to become the first group of students to graduate with a doctoral degree from Hood College—either in Organizational Leadership or Business Administration.
See more Hood College awards and accolades here.
Media Contact
Tommy Riggs
Assistant Director of Marketing and Communications